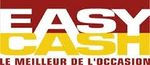 Deuxième essai de cette présentation mêlant version Française et anglaise. N'hésitez-pas à commenter sur Facebook.
Second try of this new "French-English on the same page" layout. Don't hesitate to comment on Facebook.
Quoi ? C'est quoi ce logo ? Easy Cash et l'airsoft ? Et bien si c'est un airsofteur,sympa qui plus est, qui s'en occupe, pourquoi pas... Lorsque Etienne, d'Easy Cash Bourges, m'a contacté pour me proposer de jeter un oeil à sa vitrine, j'ai été très surpris et me suis donc rendu sur son lieu de travail.
Etant dans ma période Zombies, mon oeil fut immédiatement attiré par l'édition Samurai Edge tirée de la série Resident Evil du M9 fabriqué par WE.
On se fait une review ?

C'est parti...
Aparté RS :
(Source Wikia Resident Evil)

Ou plutôt aparté RE ! Créé en 1996, le premier épisode de Resident Evil fut un succès : survival horror, histoire qui ne paye pas de mine mais en fait très fouillée, les joueurs du monde entier entendaient pour la première fois parler d' Umbrella Corporation, des S.T.A.R.S. et autres infectés...
Le Samurai edge est une version custom créée fin 1996 à la demande du RacoonCity Police Department (RPD) pour la création du S.T.A.R.S.
Il a été conçu par Joseph Kendo et était vendu par l'armurerie de Robert Kendo, son frère.
En 1998 le modèle fut approuvé par le chef e la police, Brian Irons, quelques membres ont alors été choisi pour tester le modèle (Chris Redfield, Jill Valentine, Barry Burton et Albert Wesker)
La version finale dispose de grips élargis et qui s'étendent sous le talon de chargeur, composés de deux panneaux : l'interne en bois et l'externe en synthétique. Le capuchon de ressort de marteau a également été remplacé, privant ainsi le Beretta de son anneau de dragonne. Un canon en acier inox, un arrêtoir de culasse rallongé et une culasse plus lourde ont enfin été implémentés, et les logos S.T.A.R.S. placés sur la crosse et la glissière.
Et tenez-vous bien, la réplique proposée par WE dispose de toutes ces spécificités !
The Samurai Edge was a custom made version of the 9mm Beretta 92F created for S.T.A.R.S.. It was sold in Kendo's Gun Shop, owned by Robert Kendo, and designed/created by his brother Joseph. It was equipped as a standard Handgun by all S.T.A.R.S.members.
First commissioned in December of 1996, the Samurai Edge was built on the request of the R.P.D. during the formation of the S.T.A.R.S. unit. The Samurai Edge was built under a very strict set of requirements:
After almost a year of experiments and trials; Police Chief Brian Irons approved the Samurai Edge concept in Feburary of 1998. The prototypes were tested by certain S.T.A.R.S. members, namely Chris Redfield, Jill Valentine, Barry Burton, and Albert Wesker. After receiving a few further adjustments, the completed Samurai Edge was first issued in June.
The final version of the Samurai Edge hosted a wide range of features not present on the standard 92F. The grip panes were enlarged and extended below the magazine foot, and consisted of two panels; the outer being made of wood, while the inner was synthetic. This grip design also required replacing the hammer spring cap (which normally would have a lanyard ring on the end). Further modifications include a heavier Brigadier slide (allowing it to withstand the use of higher pressure rounds), target sights, an extended slide catch, and a stainless steel barrel. Kendo also emblazoned each handgun with the S.T.A.R.S. logo, placed upon the left side of the slide below the ejection port and on a medallion in the center of each grip panel.
Hold on, the WE replica has got all these features !
Dans la boite :

Un look assez classe avec son noir brillant, un gros VIRUS au milieu du couvercle, pas besoin de fioritures...
A very classy look, black glossy box with a big VIRUS written on the lid.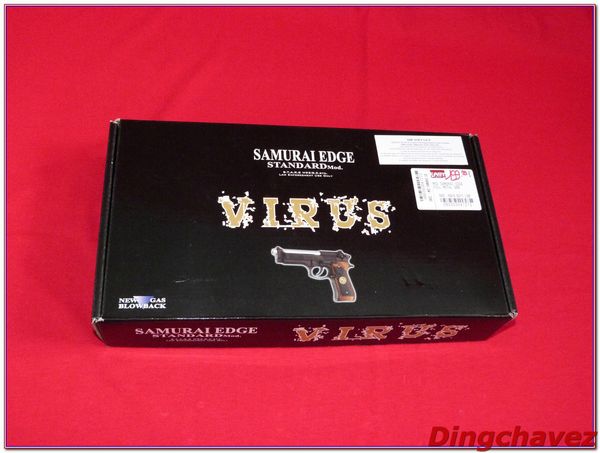 On retrouve le même logo à l'intérieur. La réplique est bien calée dans du polystyrène.
Inside, same logo. The gun is well maintained.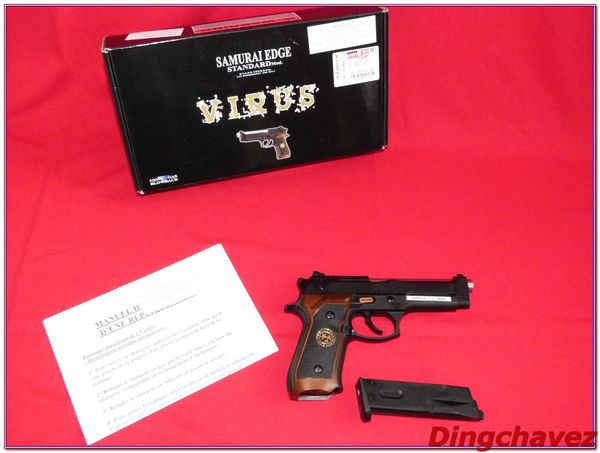 Le déballage est rapide car le contenu de la boite est minimaliste :
-La réplique, 1058 grammes sur la balance.
-Un chargeur (compatible avec les Marui old gen) d'une capacité de 24 billes.
-Une fiche en français qui récapitule les règles à suivre.

Et c'est tout !
The unboxing is faster than light !
-The gun (1058 grams)
-A 24BB magazine.
-A French quick user manual.
that's it !
La réplique :
Corps et glissière en alliage, canon externe chromé également en alliage, grips en ABS imitation bois, en sortie de boite on découvre une réplique vraiment sympathique.
La glissière comporte les marquages conformes à la licence RE.
The body and the slide are made of alloy, so is the chromed outer barrel. The grips are made of ABS (wood imitation). Out of the bow, this is a really nice gun.
Les autocollants réglementaires sont également présents. (On en profite pour remarquer les marquages sur le pontet).
The legal stickers are also present. (Notice the markings on the trigger guard).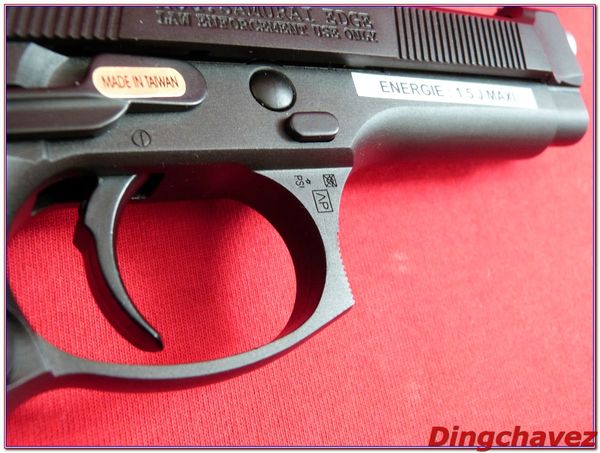 Le logo S.T.A.R.S. sur la crosse est du plus bel effet. Moi qui ai des petites mains, je trouve la crosse un peu trop large.
The S.T.A.R.S. logo on the grip is really nice looking. Having small hands, I find the grip to be a little bit too wide.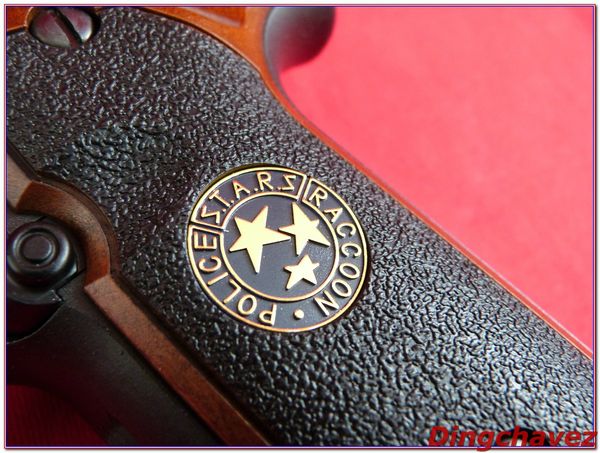 La sûreté est fonctionnelle, elle empêche l'action du marteau. Les crans sont francs.
The safety works. It prevent the hammer to operate? The positions are really marked, you can't go off safety accidentally.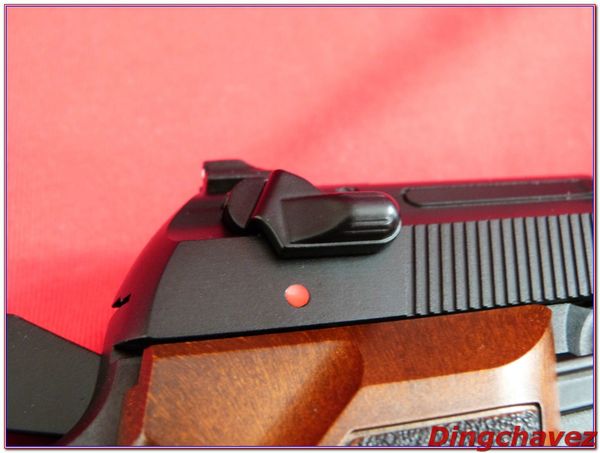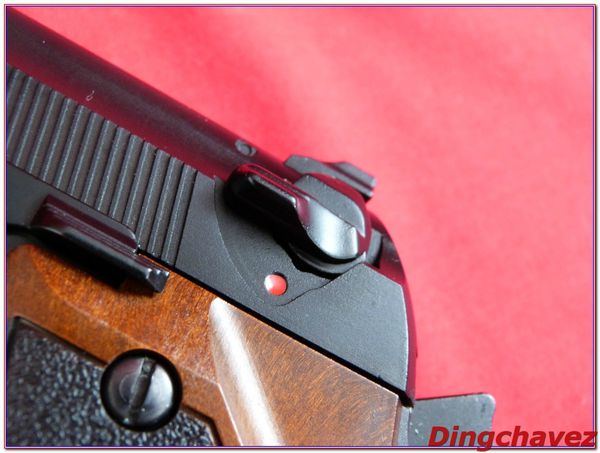 La crosse étant plus large que sur le modèle normal, un petit creux a été prévu pour le bouton de déverrouillage du chargeur.
The grip being larger than the classic one, there's a kind of hollow shape to operate the mag release.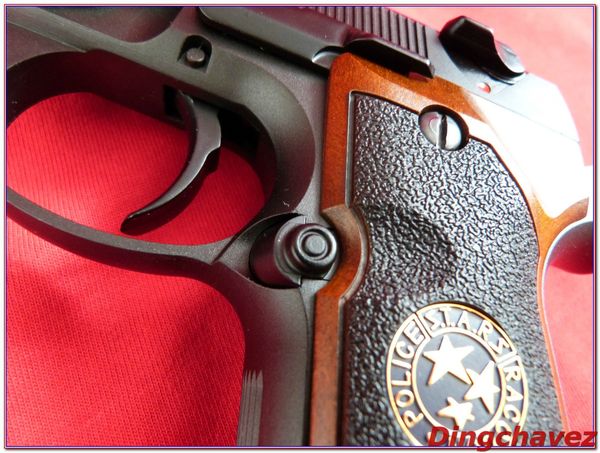 Et comme mentionné précédemment, l'arrêtoir de culasse est légèrement allongé.
As previously mentioned, the slide catch is a little bit longer.
La carcasse est simplement gravée avec un numéro de série générique.
The frame only has an engraved serial number.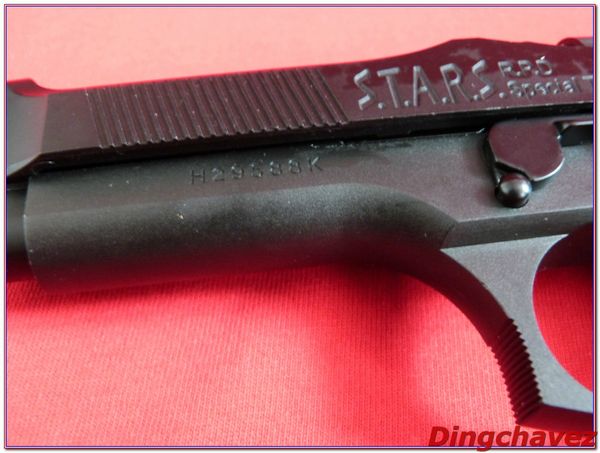 Le pontet est classique.
The trigger guard is a classic model.
Les organes de visée sont différents du Beretta mais cela reste intuitif, la visée est rapide et aisée.
The sights are different from a regular 92F but the aim is intuitive. Acquiring a target is fast and easy.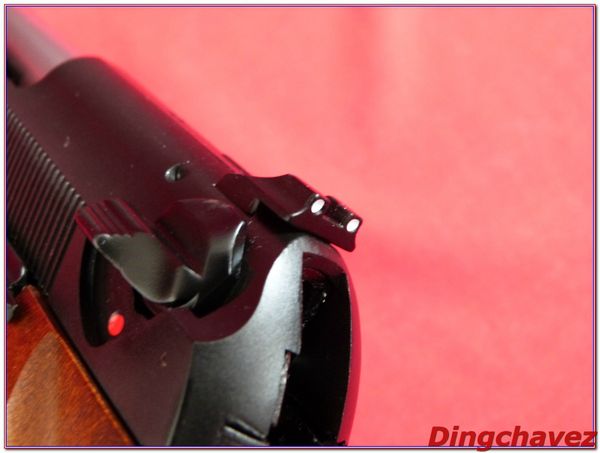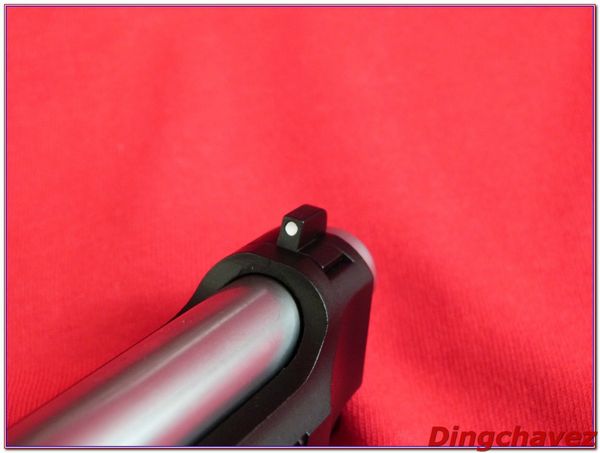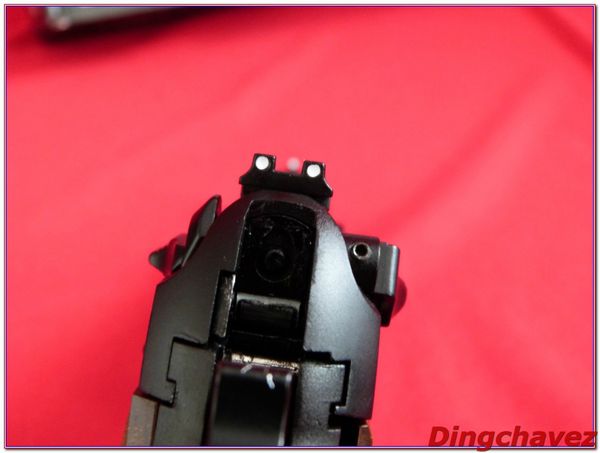 Terminons ce tour de réplique par le canon externe qui comporte un filetage. Idéal pour adjoindre un silencieux !
Let's end with the outer barrel, as you can see it is threaded so it is possible to add a sound suppressor.
Démontage et interne :

Ici par contre, aucune surprise, c'est du standard. On pousse le petit bouton du côté droit de la carcasse et on bascule le verrouillage de glissière vers le bas.
No surprise when stripping the gun, you only have to push the small button on the right of the frame and then move the slide lock down.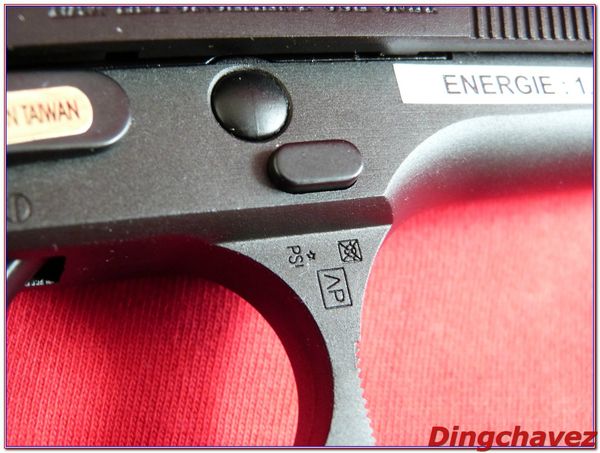 On peut alors retirer l'ensemble mobile.
Then we can remove the slide.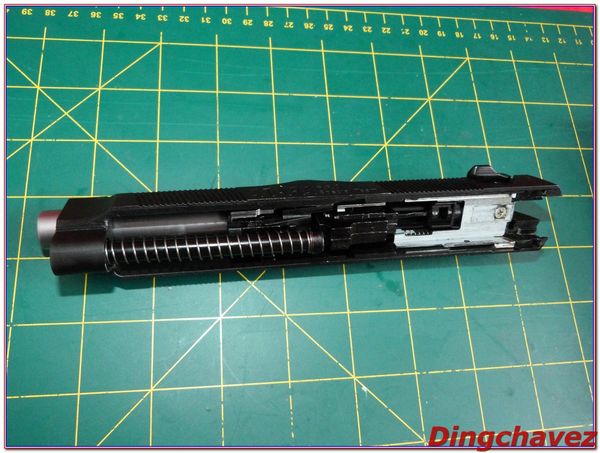 Sur ce modèle, la plupart des pièces est compatible avec les anciennes versions Marui.
This replica is compatible with most of Marui parts (old M9 versions).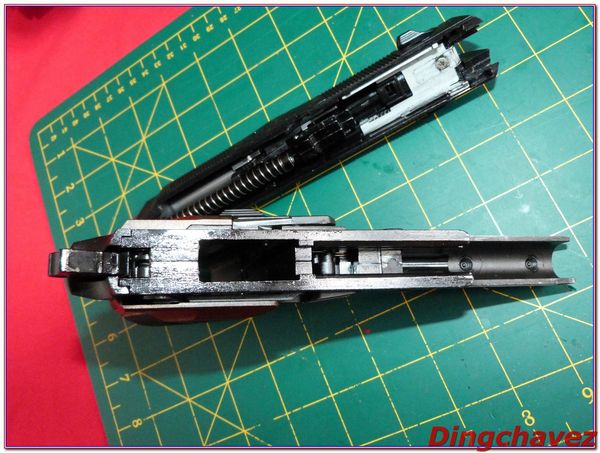 Le canon externe chromé est du plus bel effet, attention aux chocs car ce n'est qu'un traitement de surface.
The chromed outer barrel is really classy. Be careful this is only a surface coating, beware of scratches !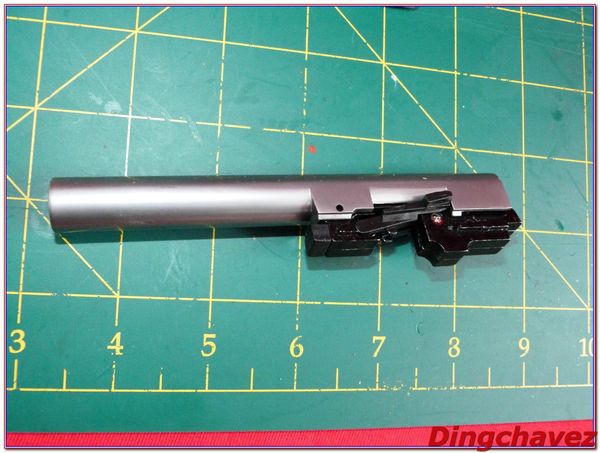 L'antique bloc hop up ! Contrairement au modèle Marui, celui-ci est réglable.
The old hop up unit. This one can be set, not like the Marui one which is fixed for 0.2 BB.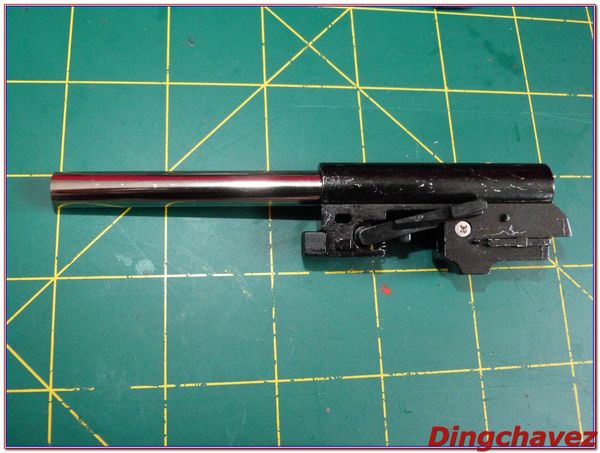 Le réglage se fait par l'intermédiaire de cette petite vis.
ATTENTION : si vous serrez trop, le joint va passer dans le canon et lorsque vous allez tirer, il ira faire sa vie loin de vous, vous laissant avec une réplique qui tirera aussi mal qu'un Dan Wesson !
To set the hop up effect, use this small screw. BE CAREFUL : if you tighten too much, the rubber can be ejected with a BB !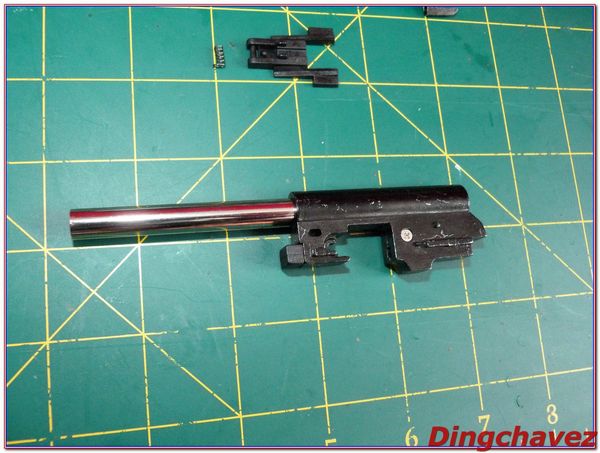 Le canon est spécifique.
This is a specific inner barrel.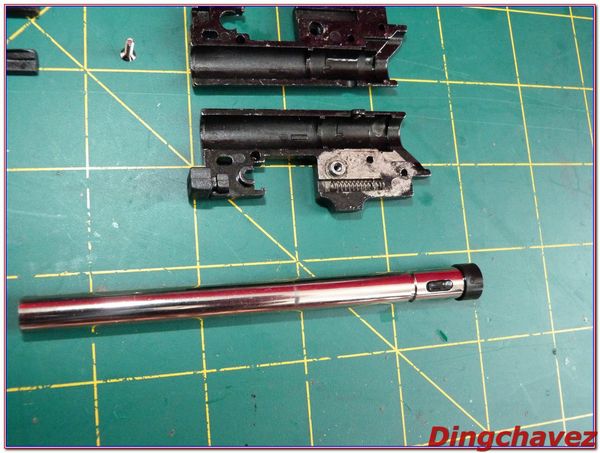 Comme vous pouvez le voir, le joint est minuscule. Je n'ai jamais réussi à trouver cette pièce en rechange, si vous avez un lien, je prends !
As you can see, the rubber is really small. I've never managed to find a spare part, if you've got a link, please tell me !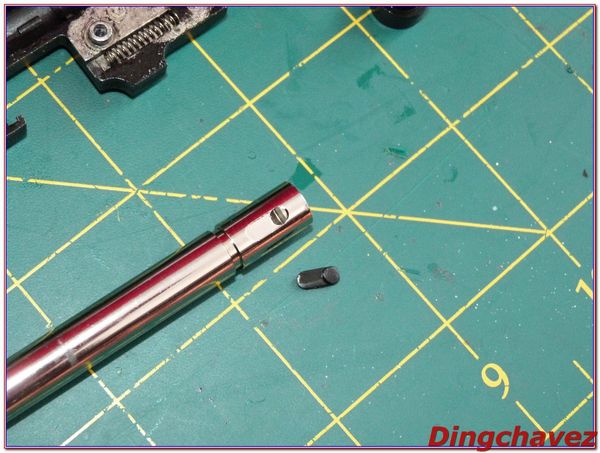 Le chargeur :
D'une capacité de 24 billes, il est également compatible avec le modèle Marui ancienne génération. sorti de boite il y avait une légère fuite mais après quelques remplissages tout est rentré dans l'ordre.
The magazine is compatible with Marui old gen. You can feed it with 24 BBs. Out of the box there were a light leak, but everything went fine after a few gas filling.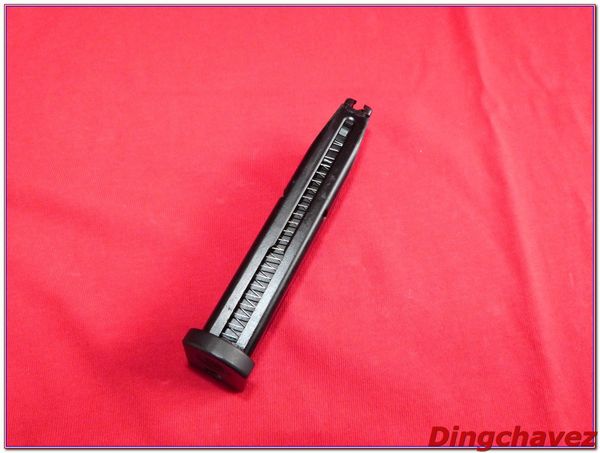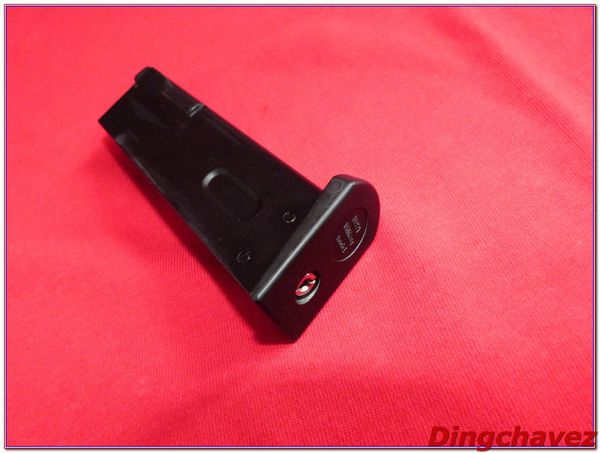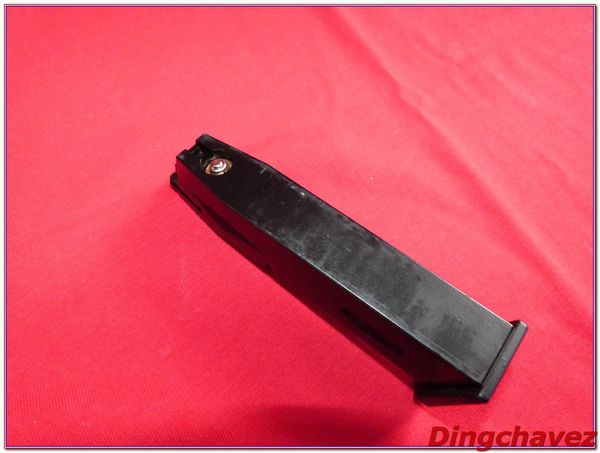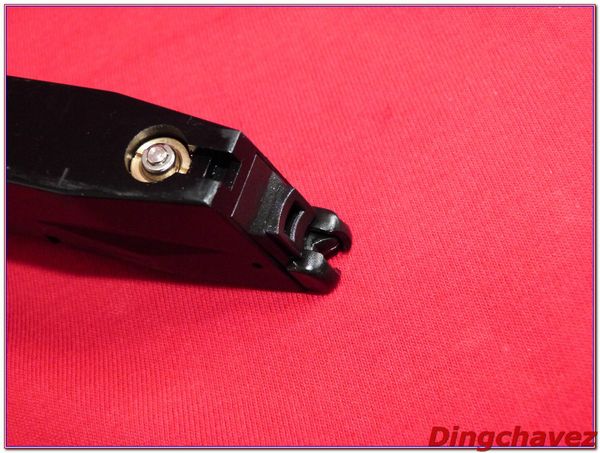 Tests de tir :

-Température 21°C
-Green gaz (propane)
-Billes 0.20g bio Xtreme précision
-Chrony Xcortech 3200
-Valeurs en fps relevées sur 6 tirs : 318-316-327-324-315-313
Soit une moyenne de 319 fps. Si votre équipe/asso limite les répliques de poing à 300 fps, il suffit de changer de gaz et de mettre du HFC144a par exemple.
Le hop up lève sans souci la 0.20 et le 0.25, j'avoue ne pas être monté plus en grammage de peur de trop serrer le hop up et que le joint ne s'envolle avec une bille...
Les trajectoires ne sont pas toujours régulières, parfois une billes décolle après 15-20 mètres, parfois c'est droit et parfois ça plonge un peu.
Le kick n'est pas ridicule et le poids de la réplique apporte quelques sensations lors du tir.
Les tests de précision ont été effectués à environs 10 mètres.
The average BB speed is 319 FPS with Green gas. The hop up can manage 0.20 and 0.25 BB without concern, I lust say that I didn't try heavier because I was afraid of tightening the screw too much and that the rubber would fly away...
Trajectories are not always the same, sometimes it flies to the Moon after 15-20 meters, sometimes it is straight and sometimes the BB drops a little bit.
The kick is far from ridiculous, you'll feel the gun judder if you shoot fast.
The accuracy tests have been made at about 10 meters;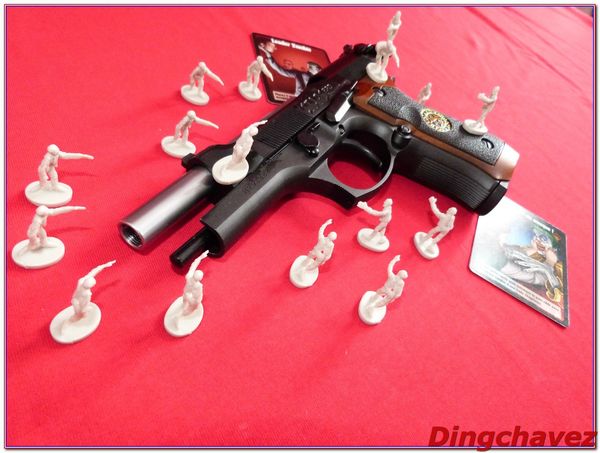 Conclusion :

Ce n'est pas mon premier Beretta WE, et si je suis assez partagé sur la qualité des matériaux, la résistance dans le temps, et surtout la fiabilité du hop up, je suis par contre persuadé que tout bon fan de Resident Evil disposant d'un peu de moyens se doit de posséder cette fidèle reproduction, ne serait-ce que pour trôner dans une vitrine aux côtés d'une figurine de Nemesis ou un badge du S.T.A.R.S. !
Bien entendu cette réplique peut également satisfaire le joueur en quête d'un backup pas trop cher, mais soyez averti : ce n'est pas au niveau d'un modèle Marui, KSC ou WA ! APr contre, en parlant de Marui, la compatibilité des pièces vous permettra de fiabiliser ou de réparer ce Samurai Edge en cas de problème, sauf au niveau du joint de hop up, malheureusement introuvable.
This is not my first WE Beretta and if I don't trust very much the materials, the durability and the hop up reliability, I'm convinced that every wealthy Resident Evil fan should own this gun and put it in a display cabinet next to a Nemesis figure or a S.T.A.R.S. badge !
Of course this gun can also fit any player seeking a cheap handgun, but be aware that it won't be as reliable as Marui, KSC or WA products... Speaking about Marui, the large amount of spare parts will allow you to upgrade or repair this Samurai Edge, except for the hop up rubber...
J'aime :
-Reproduction fidèle du Samurai Edge.
-C'est beau.
-Poids respecté et bon kick.
-Compatibilité Marui.
J'aime moins :
-Fragilité des matériaux (le canon externe se raye vite).
-Système hop up à manier avec précaution.
-Joint introuvable.
I like :

-This is a beautiful replica of the Samurai Edge.
-Heavy weight and nice kick.
-Tokyo Marui compatible (except hop up).
I dislike :

-Fragile materials (the outer barrel won't stand scratches).
-Hop up system and spare rubber unavailable.