Hey, mais c'est la 30eme review sur l'Antre ! Déjà !
Bon, je triche, la plupart étaient déjà sur différents forums avant, mais je suis heureux de pouvoir continuer à vous proposer du contenu assez régulièrement, en partie grâce aux quelques boutiques qui m'ont fait confiance jusque là (Centre-Airsoft, Easy Cash Bourges, Airsoft&Co et Speedgames) et également aux personnes qui me rachètent les répliques que je mets en vente afin de pouvoir en acheter d'autres pour vous proposer de nouvelles reviews.
Aujourd'hui je vous présente une réplique au look sympa et aux performances étonnantes, le PX4 de chez HK, version avec marquages du PX4 WE.
Hey, this is the 30th review in the Lair ! Already !
Well, I'm a cheater, many reviews were taken from forums were I originally posted them, but I'm happy to be able to give you more content quite regularly.
I must thank the different shops that have trusted me so far (Centre-Airsoft, Easy Cash Bourges, Airsoft&Co and Speedgames), as well as the players who bought some of my guns so I could buy others for reviewing them.
Today we're going to speak about a very efficient and good looking gun, the HK PX4, WE gun with markings...
Aparté RS/real steel :

Pour la faire courte, le PX4 est un pistolet semi-automatique fabriqué par la firme italienne Beretta. La particularité de cette arme est d'avoir un canon rotatif qui permet de diminuer le recul. Trois calibres sont disponibles (9mm para, .40 et .45ACP) et le PX4 dans sa version 9mm (objet de cet article) est doté d'un chargeur de 17 balles.
Pour plus d'infos, le wiki...
In a nutshell, the PX4 is a semi-auto pistol made by the Italian company Beretta. This gun has a short recoil rotating barrel. Available in three different calibers (9mm para, .40 and .45ACP), the replica is the 9mm one.
More info right here.
Dans la boite/in the box:


La boite à ici un peu souffert du transport mais l'intérieur est en bon état.
The box suffered from transport but everything is fine inside.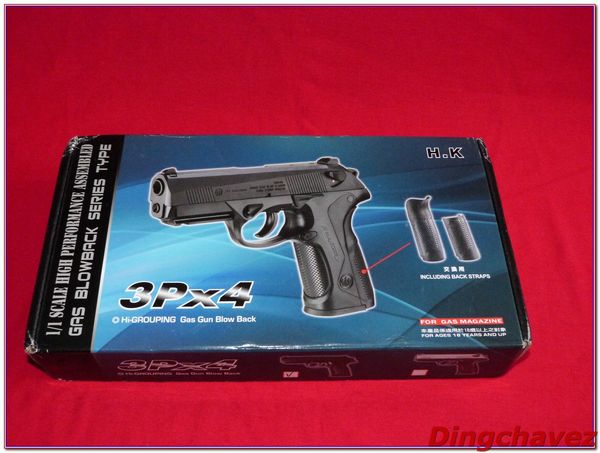 Le contenu est placé dans le classique polystyrène biodégradable de chez WE, en général on en retrouve plein la réplique :-)
The content of the box is well maintained in classic WE polystyrene, usually there is plenty of it on the gun :-)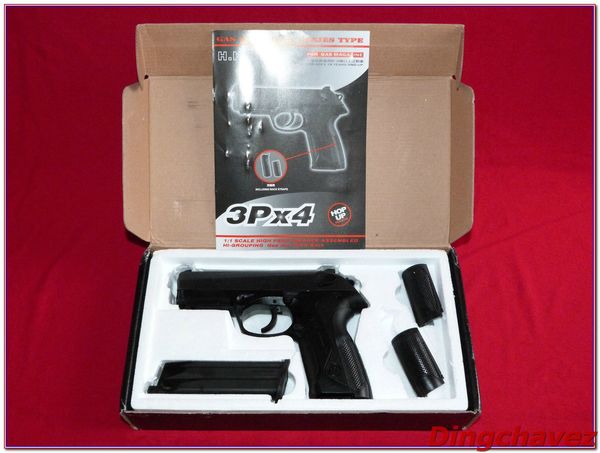 Le contenu est le strict minimum :
-La réplique (912 grammes sur la balance)
-Un chargeur de 26 billes.
-Deux grips supplémentaires.
-Un manuel en anglais avec les instructions d'utilisation et l'éclaté de la réplique.
The content is light :
-The gun (912 gramms)
-A 26BB magazine.
-Two extra grips.
-A user manual, written in English.
La réplique/the gun:

Je suis agréablement surpris par l'aspect et les finitions de la réplique, la carcasse est en ABS et la glissière en alliage. Par rapport aux autres répliques de poing WE qui me sont passées dans les mains, on dirait que le soin apporté par la branche HK porte ses fruits (nous en reparlerons). La réplique est compacte mais le poids est bien présent, l'impression de solidité est bien là, aucun jeu intempestif, des traces de moulage hyper discrètes
I'm really pleased with the first look at the replica. The finish is good, the frame is made of ABS and the slide is made of alloy. Compared to the other WE guns I reviewed, it seems that the HK branch really takes care of their guns (we'll see it later). The gun is compact but the weight is great, there is a good feeling about the reliability of it. The molding marks are almost invisible.
La crosse dispose de marquages Beretta. L'aspect brillant n'est pas gênant. Le grip est agréable.
The butt has got Beretta markings. The glossy aspect isn't a problem, the grip is pleasant.
Et puisqu'on en parle, il est possible d'adapter votre prise en fonction de votre morphologie à l'aide d'un des 3 grips présents dans la boite. Pour en changer, on appuie sur le bouton situé au cul de la crosse.
Speaking about grip, it is possible to change it for one of the 3 different versions in the box. To remove it, press the button at the bottom of the butt.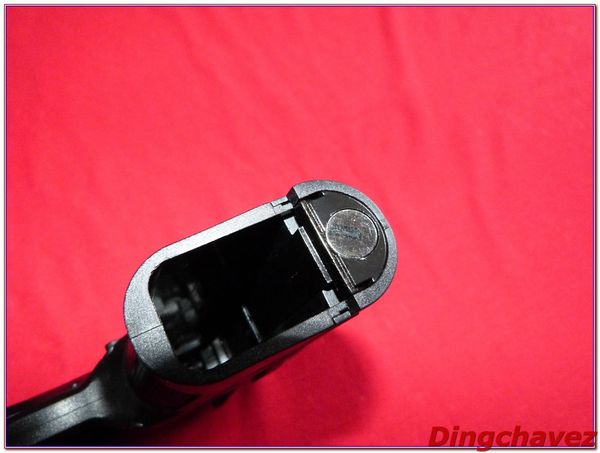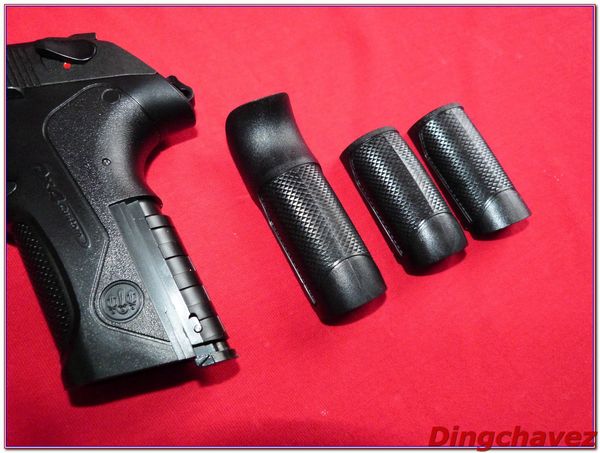 Et voilà ce que ça donne.
And this is how it looks.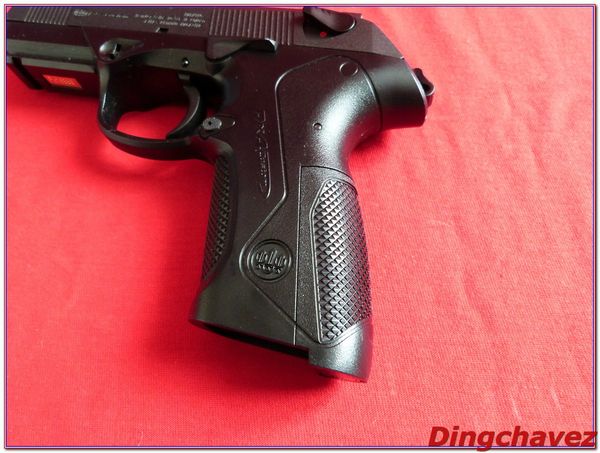 Ma préférence va pour celui-ci.
This one is my favorite.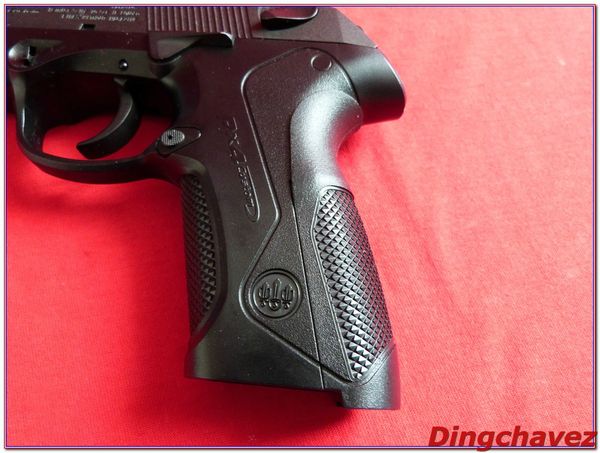 Les marquages de la glissière sont de très bonne facture, pas de bavure, pas d'imperfection notable.
The markings on the slide are crisp and without flaw.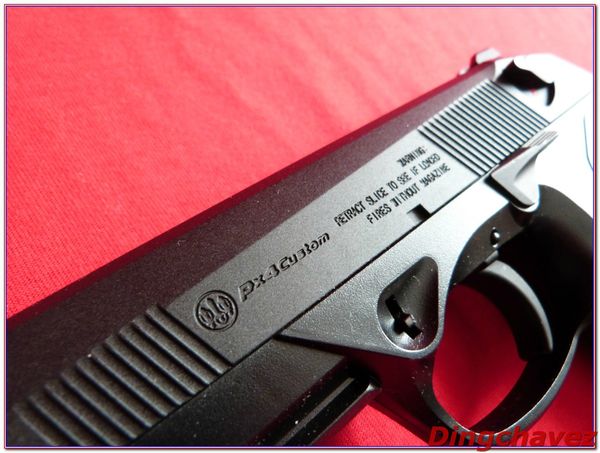 Le côté droit de la glissière comporte également le numéro de série.
On the right side of the slide, there is the serial number.
Le canon comporte le même numéro de série plus l'indication du calibre RS (9 para).
The outer barrel is engraved with the same serial, plus the real steel caliber (9 para).
A l'avant de la carcasse, un autre marquage.
At the front of the frame, another marking.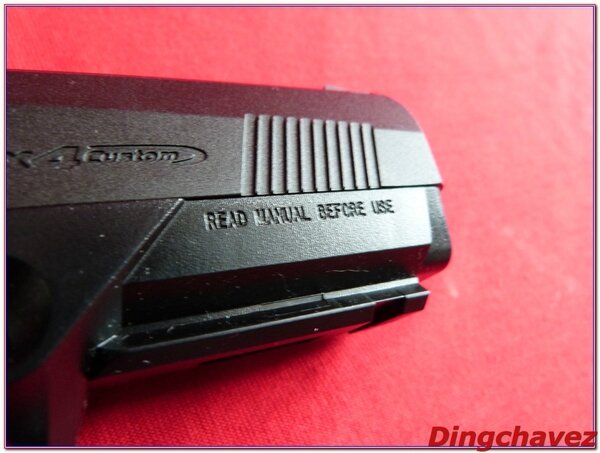 On retrouve à nouveau le numéro de série sur la partie inférieure de l'avant de la carcasse, là ou se situe le rail 22mm permettant de fixer une lampe ou autre laser...
Once again we see the serial number. This time on the lower part of the frame, were the 2mm rail is molded.
Le cran de sûreté fait également office de levier de désarmement, comme sur la version réelle.
The safety lever also triggers the de-cocking of the gun, just like on the real one.
Le bouton de verrouillage de chargeur. Il peut être démonté pour passer en version gaucher.
The mag catch. It can be switched to left-handed position.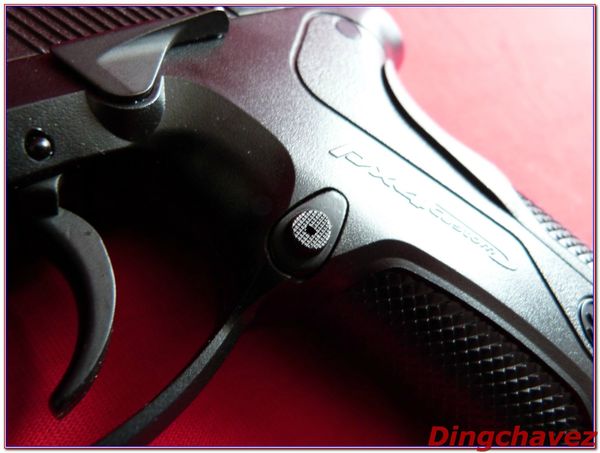 L'arrêtoir de glissière.
The slide catch.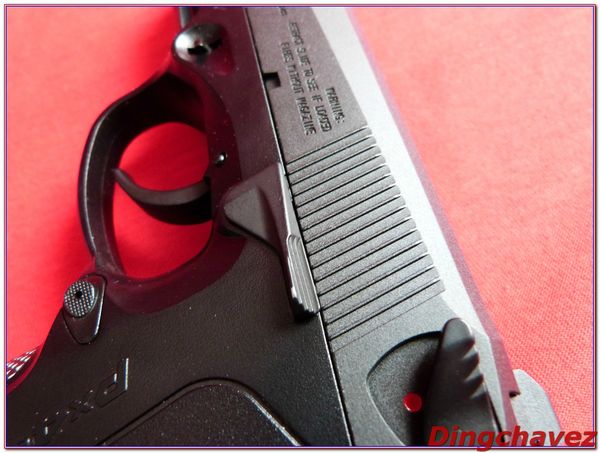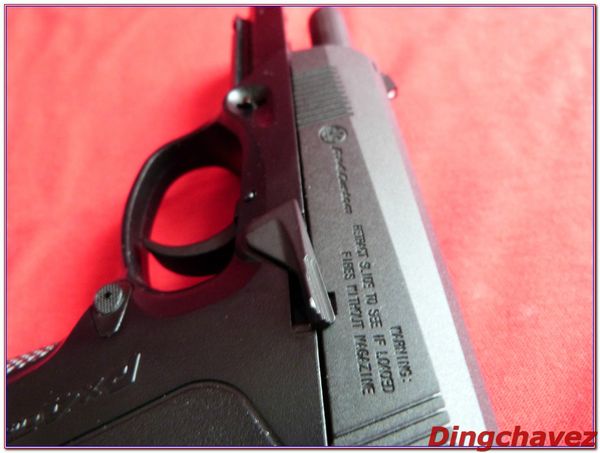 Comme la plupart des répliques de poing de la marque, le canon externe est fileté pour pouvoir mettre un silencieux.
As most of the replicas from this brand, the outer barrel is threaded to fix a silencer.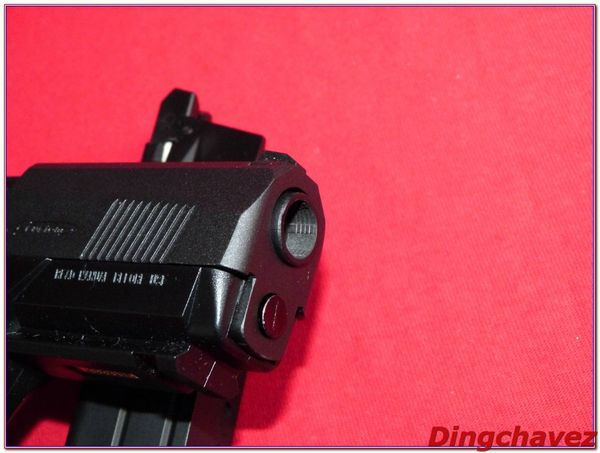 Les organes de visée comportent des points blancs, cela facilite l'acquisition de la cible.
The sights are marked with white dots. It is easier to acquire targets.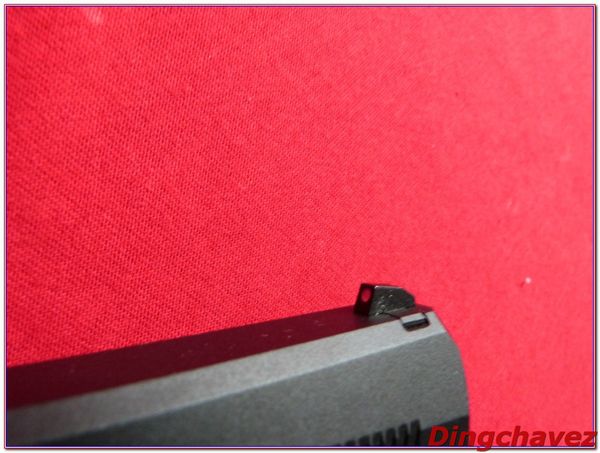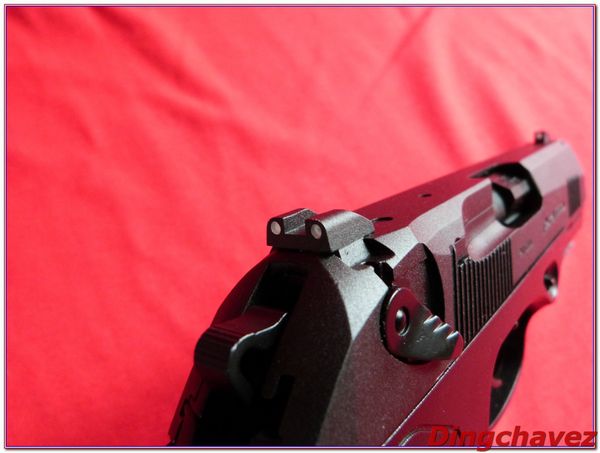 Démontage et interne/Field stripping:

A l'instar des Glocks, ce Beretta se démonte en une pression des tenons situés sur la carcasse.
As the Glock family, this Beretta can be stripped using the lugs on the frame.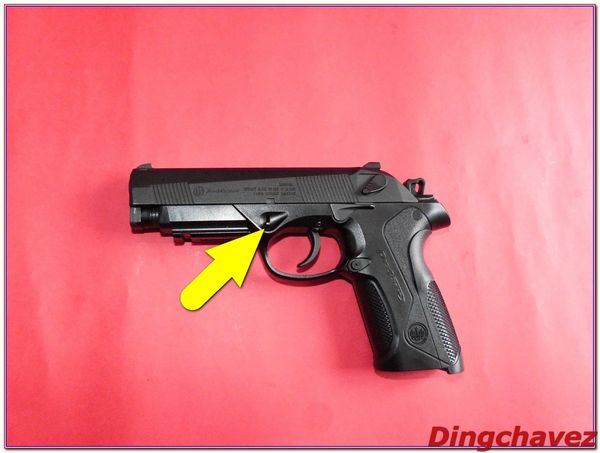 Une petite vue de la mécanique.
A view at the guts.
On peut alors enlever la tige-guide, le ressort récupérateur, l'ensemble canon interne-externe et hop up.
Now we can remove the insides of the slide : inner and outer barrel, spring guide and recoil spring, hop up unit.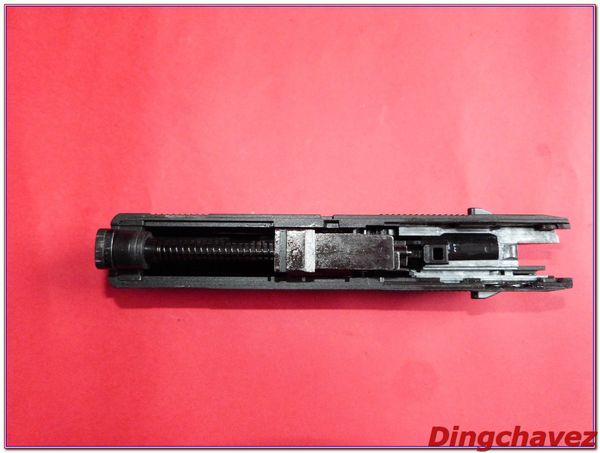 Vue sur le nozzle. Apparemment la plupart des éléments sont compatibles Marui. Remarquez la graisse, c'est assez inhabituel de voir ce graissage d'origine, HK prend soin des finitions.
A close up on the nozzle. Apparently most of the parts are Marui compatible. Notice the lubrication, this is quite rare, HK is taking care of its customers !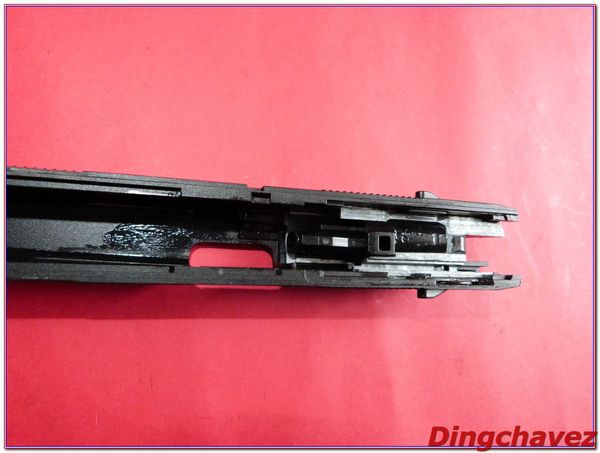 Le canon externe. Comme sur le vrai PX4, il est rotatif. Celui-ci est en alliage.
As on the real PX4, the outer barrel is rotating. This one is made of alloy.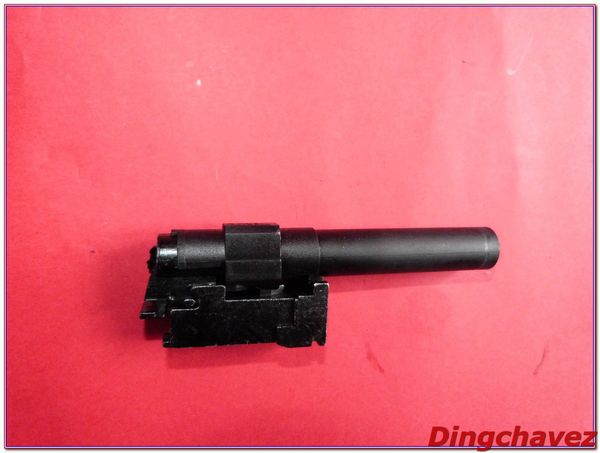 Voici le système de guide.
Here is the guide system.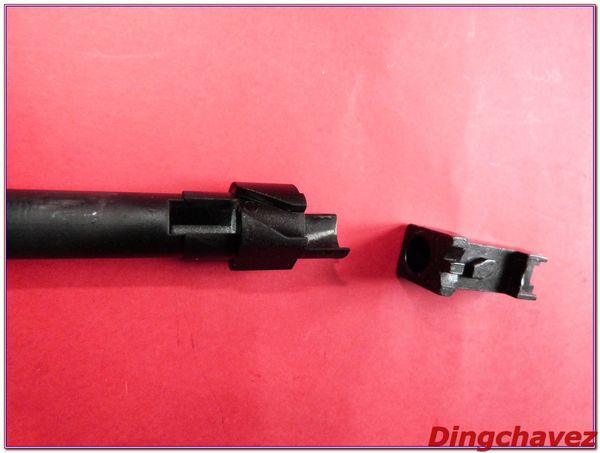 Le bloc hop up est assez inhabituel, il y a deux roulettes de réglage.
The hop up unit is a special one, with two small wheels.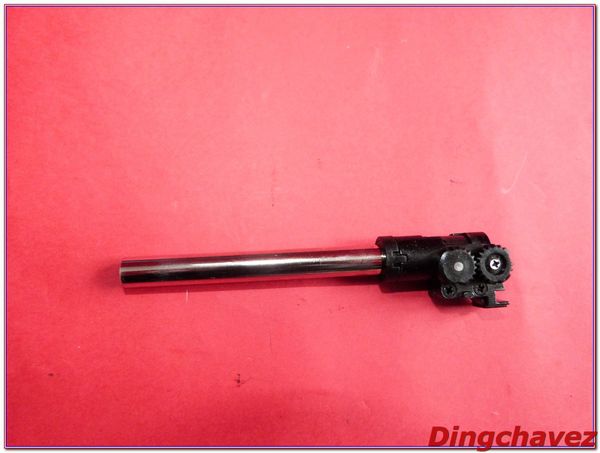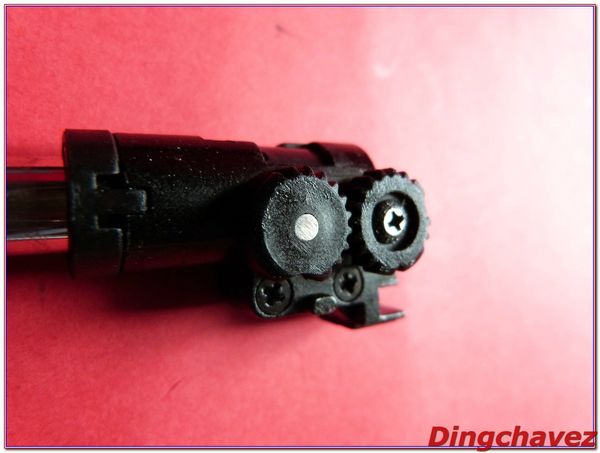 Du coup, pas besoin de démonter la réplique pour le régler, il suffit de bloquer la glissière vers l'arrière.
So there's no need to strip the gun, you can set the hop up through the breech.
Le canon interne mesure 92 mm. Le joint est de type Marui pour VSR/hicapa.

The inner barrel is 92mm long. The rubber is a VSR/hicapa type.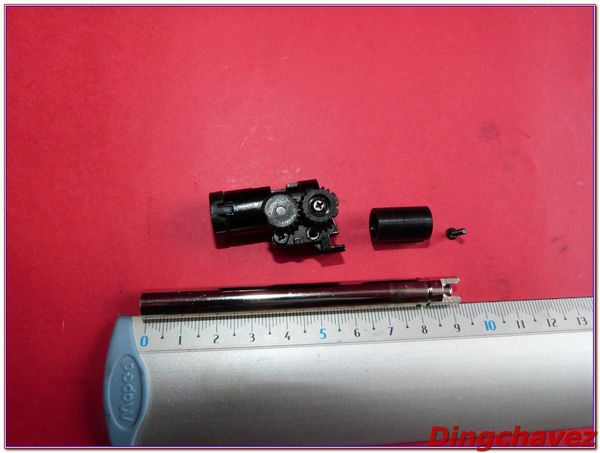 Le chargeur/magazine:

Il peut contenir 26 billes
It holds up to 26 BBs.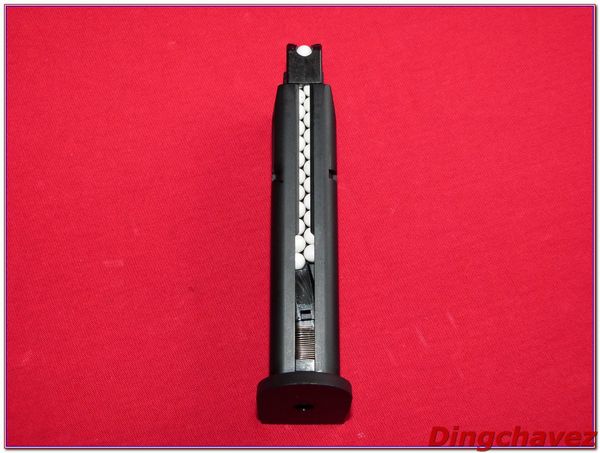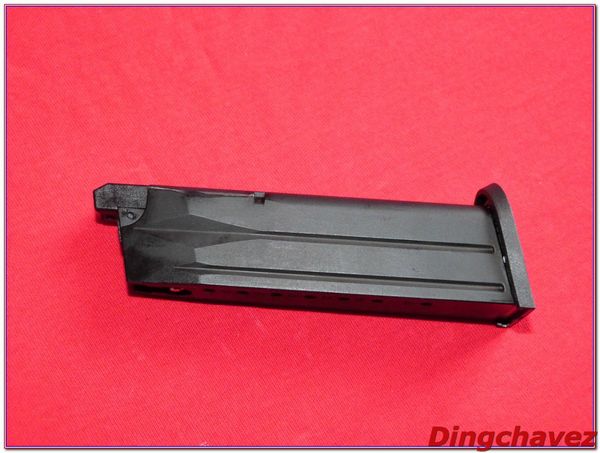 Le dos du chargeur est marqué. On y retrouve la capacité du modèle réel.
The back of the magazine is marked with the real bullet capacity.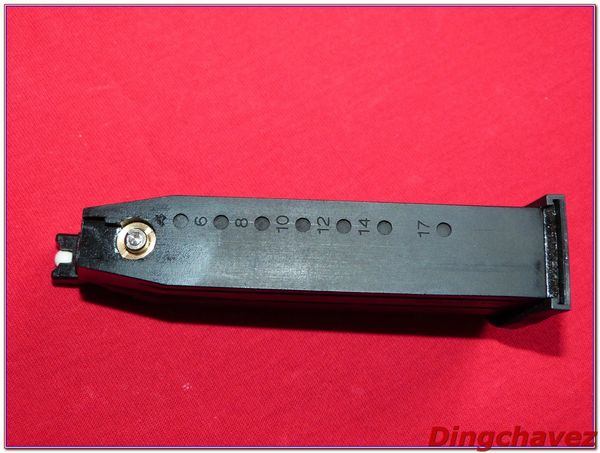 Le chargeur est marqué du calibre RS.
The mag has got RS caliber marking.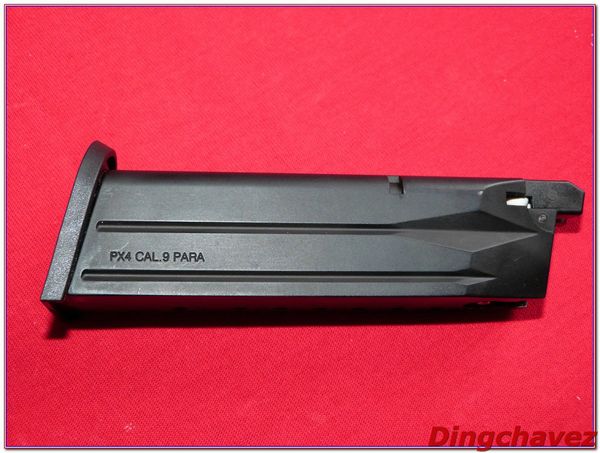 Pour démonter le chargeur, on enlève le talon.
To strip the mag, remove the butt.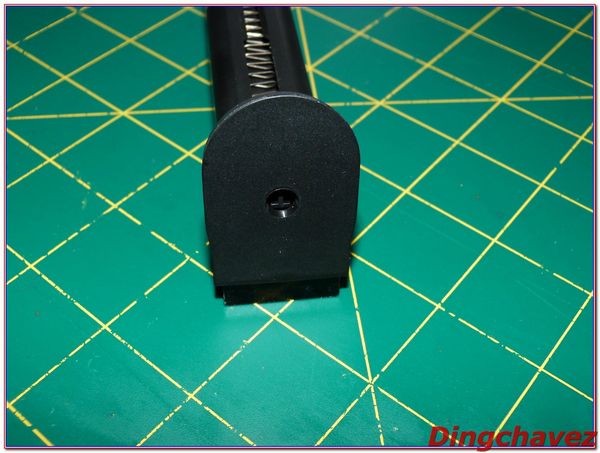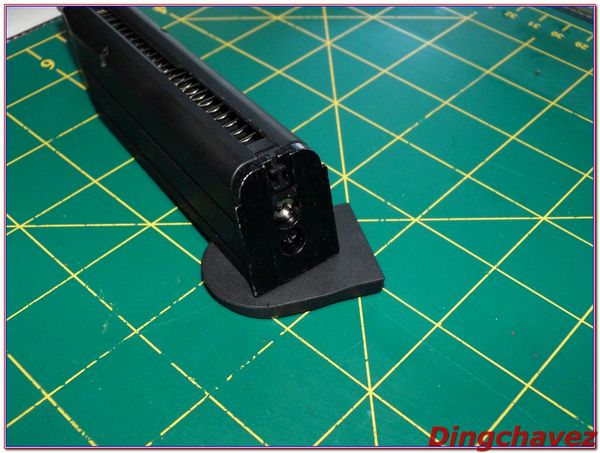 Et on démonte la vis. Je suis encore une fois agréablement surpris : pas de limaille et les valves sont graissées (ainsi que le joint) !
And remove the screw. I'm surprised, there is no metal dust inside and the valves are lubricated (so is the seal) !
Tests de tir/Shooting tests:

Les tests ont été effectués avec du propane. gas : propane.
Température 20°C en intérieur (pour les tests chrony) et environs15°C en extérieur (pour la vidéo de tir).
Temperatures : 20°C inside (chrony tests) and about 15°C outside (for shooting tests)
Billes bio Xtreme précision 0.2 grammes.
Voici les valeurs obtenues en FPS sur 5 tirs : 278-285-276-280-282
Soit une valeur moyenne de 280 FPS, parfait pour un backup.
Le hop up est efficace il lève un grammage de 0.25 sans souci, étonnant car on a à faire à un joint WE assez souple. Le kick est très sympathique, surtout sur une réplique compacte, on sent bien le choc du recul. Niveau portée, on atteint les 30-35 mètres avec une dispersion assez faible.
The average power is 280 FPS.

The hop up is efficient, it has no problem lifting 0.25BB. This is good considering that there is a WE rubber in it. The kick is interesting as the gun is compact. The range is about 30-35 meters with a good accuracy.
Concernant la précision, les tests ont été effectués à une distance de 10 mètres environs.
Je vous laisse découvrir ce que ça donne en images :
Let's discover it :
conclusion :
A vrai dire, je m'attendais à une réplique de qualité moyenne, du WE nouvelle génération quoi, avec un bon rapport qualité prix et des performances perfectibles. Soit ils ont fait fort, soit HK a un cahier des charges plus strict, j'avoue ne pas connaitre assez les différentes filiales pour vous en dire plus.
Quoiqu'il en soit, ce PX4 est une bonne réplique en sortie de boite. Bon groupement, bonne portée et de bonnes sensations, tout cela avec un look et une finition impeccables. Il faudra voir dans le temps si la peinture n'est pas trop fragile et si la mécanique tient, je ne manquerai pas de venir compléter la review. Vous pouvez commenter sur Facebook.
To be honest, I was expecting an average replica. WE next gen, with a good ratio price/quality and upgradable performance. But either they made it right, either HK has tighter specifications. I must say that I don't know those firms enough to say...
Whatever, this PX4 is a good gun out of the box. It has got a good accuracy, good range and good shooting sensations. All of this with a very good finish. We'll see if the gun isn't too fragile as games go by, I will update this review when I've got more to say.
You can comment on Facebook.
J'aime/I like :
-Look sympa./good looking gun.
-Finitions./good finish.
-Portée/précision d'origine./good range/accuracy.
-Bon rapport qualité/prix./good price/quality ratio.
J'aime moins/I like less :
-Euh... /Ahem...
-Ah, si ! Pas d'attache pour dragonne ! /Oh yes ! There's no sling attachment.