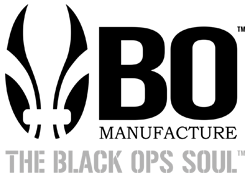 Une fois encore (après la review de l'AKM13), bonne surprise de voir les répliques Delta.13 et Gothic Serpent Operation (GSO.13) BO Manufacture à la boutique Airsoft Concept.
Franck a gentiment accepté que je vienne faire quelques photos afin de pouvoir vous présenter ces nouveautés "Made in France"*.
Once again (after the review of the l'AKM13), it is a good surprise to see the Delta.13 and Gothic Serpent Operation (GSO.13) replicas from BO Manufacture at Airsoft Concept shop.
Franck kindly accepted that I come to take some pictures to show you some new stuff "Made in France".

Oui, je sais ce que vous vous dites : "ouah il se la pète grave'', mais il a bien raison car moi aussi je me la pète grave...

Yes, I know what you think "he's so full of himself" but he can be because I am too...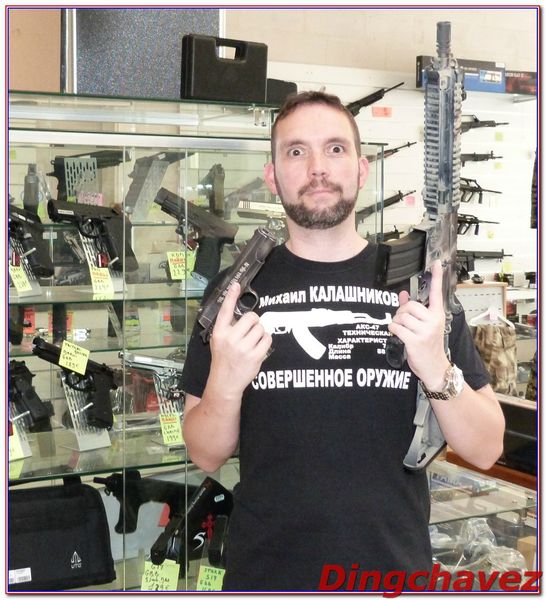 ... sauf que moi, j'ai la classe, mais je dois avouer qu'avec ce T-shirt on peut pas lutter ! (et hop, je viens de me fermer la porte de ce shop :-p , mais non, Frank à beaucoup d'humour).
...except that I am classy, but I have to admit that it is impossible to compete with that T-shirt! (I've just got myself kicked out of that shop but Franck has got a sense of humour so I'll be ok).
Aller, c'est pas tout ça, on s'impatiente et on se trémousse sur son siège, à quoi ça ressemble ces répliques estampillées "haut de gamme"? ATTENTION : il ne s'agit pas de reviews, je n'ai fait que les toucher, les regarder et les manipuler, je n'ai effectué aucun démontage ni aucun test de tir.
You're getting impatient, so let's have a look at these "upmarket" replicas! WARNING: this is not a review, I only had the opportunity to touch, have a look and manipulate them. No field stripping nor shooting test for these.
Delta.13, le ''M416" des opérations spéciales.../ Delta.13, "M416" for special operations...
Cette réplique est assemblée en France sur une base VFC. Ici c'est le modèle "Battle damaged", peint et patiné, qui est proposé pour environs 750 Euros. Une somme, mais si je ne me trompe pas, c'est une série limitée à 60 exemplaires. Il est à noter qu'au moins deux utilisateurs ont eu des soucis avec le sélecteur de tir (tirs en position sûreté, blocage de détente en semi, tirs en full avec sélecteur en semi) mais le SAV a fait son job.
This gun is assembled in France on a VFC base. Here is the "Battle damaged" model. It is painted and it received patina. Its cost is around 750 Euros. It's a lot but if I'm not mistaken, it is one of the 60 limited edition units. At least two users declared having problems with the fire selector (it shots when in safe mode, trigger stuck in semi, full auto shooting with selector on semi) but the after-sales service did its job.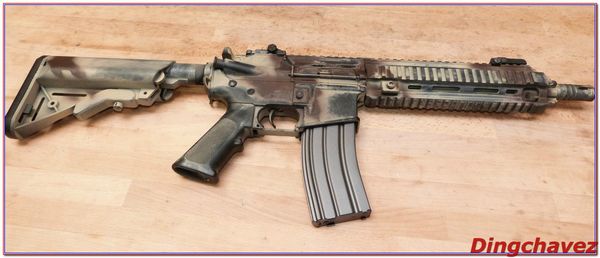 Comme vous pouvez le constater, il s'agit d'un receveur supérieur de HK416 posé sur un receveur inférieur de M4. La légende veut que les opérateurs de la Delta Force, équipés de l'arme en 2004, auraient dans un premier temps préféré garder leur lower pour conserver leurs réglages de détente (je ne sais pas si les PMAG existaient déjà en 2004 mais ça aurait également pu influer sur leur décision; non, en fait 2007 les PMAG...). Enfin, pas de questions à se poser, ça devrait avaler tous types de chargeurs !
As you can see, it is a HK416 upper receiver on a M4 lower receiver. The legend says that Delta Force operators equiped with the gun in 2004, wanted to keep their lower to keep the trigger adjustments (I don't know if the PMAG already existed in 2004 but it could have influenced their decision; actually 2007 for the PMAG...). Well, it should take all kind of magazines!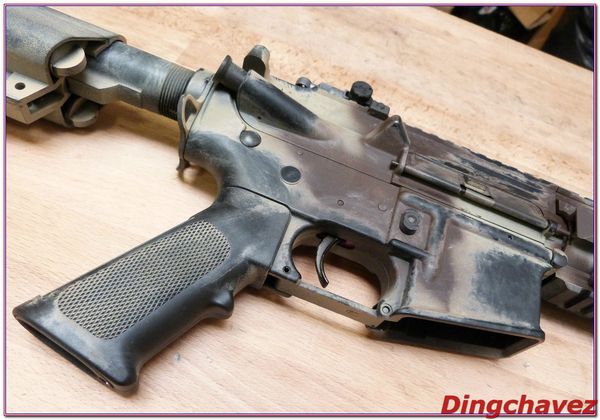 C'est une version 10 pouces.
It's a 10' version.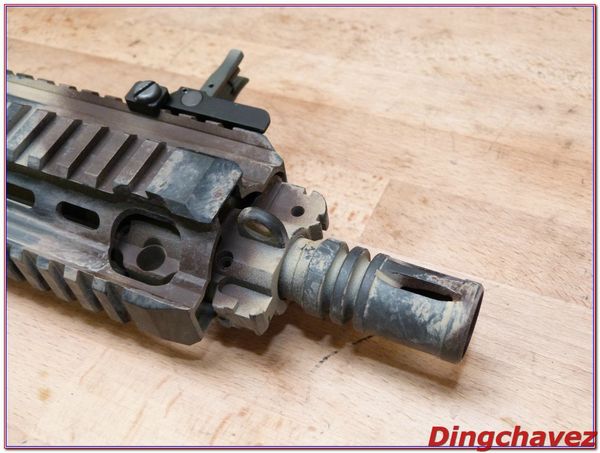 Sur cette photo on peut voir le logo BO sur le pontet, ainsi qu'un tout petit morceau de la gearbox, on constate la même couleur rose que sur l'AKM13.
The BO logo on the trigger guard as well as a small bit of the gearbox. You can see the same pink color as we found on the AKM13.
La crosse choisie est une crosse ''crane'', conforme à celles utilisées par les Delta. La batterie se loge à l'intérieur.
It is a "crane" stock in keeping with the one used by the Delta. The battery goes inside.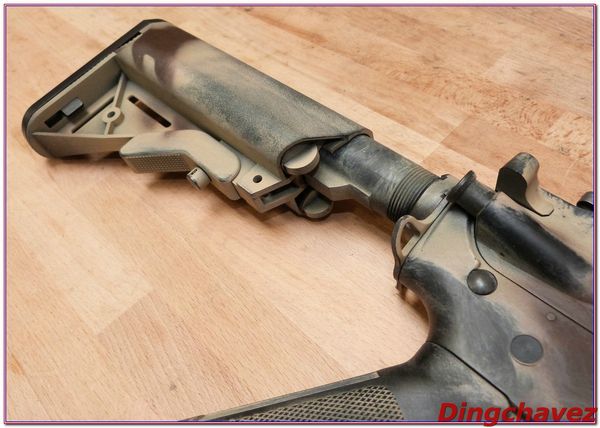 Le receveur inférieur est marqué du sigle des Delta et d'un numéro de série unique. Notez le calibre fantaisiste, peut être le diamètre des billes préférées chez BO (edit du 26 août 2013 : j'avais raison, BO sort sa marque de billes calibrées) .
The lower receiver with the Delta marking and a unique serial number. Notice the imaginative caliber, maybe BO's favorite BB diameter.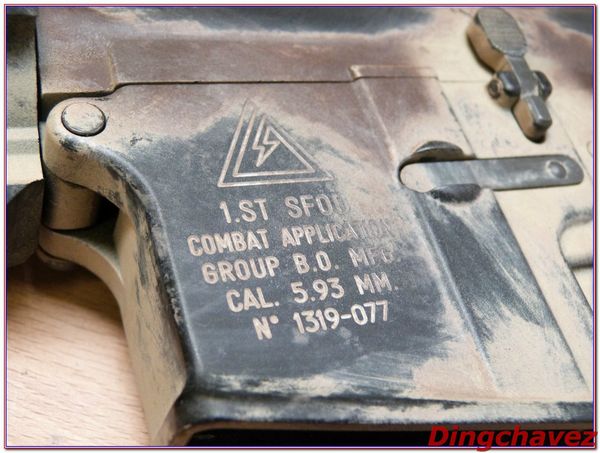 Le sélecteur de tir n'est pas ambidextre.
The fire selector is not ambidextrous.
Les organes de visée repliables (réglables) type KAC pourront être complétés par n'importe quel type d'optique grâce au rail présent sur le dessus de la réplique.
The KAC-type flip-up sights (adjustable) can receive any kind of optics thanks to the rail on the top of the replica.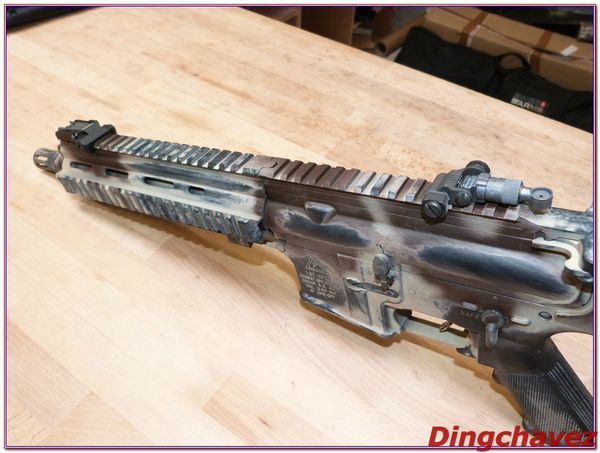 Derrière le faux ensemble mobile on trouve le réglage du hop up.
Look behind the fake dummy bolt, this is where you can adjust the hop up.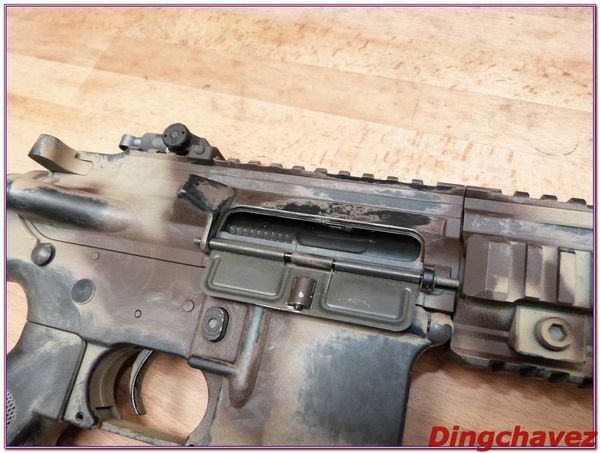 A noter que l'arrêtoir de culasse ne semble pas fonctionnel, du moins sur ce modèle, il faudra donc garder le levier d'armement vers l'arrière pour régler le hop up.
Notice that the bolt catch is not working, at least on this model. You'll have to keep the charging handle to the rear to set the hop up unit.
Aller, la suite !
Let's go on!
Gothic Serpent Operation (GSO.13), le gbb qui a du piquant ! / Gothic Serpent Operation (GSO.13), a stricking gbb !

Seconde réplique de cette présentation en photos, le GSO.13. Aucune idée de la base de la réplique utilisée, je ne m'y connais pas du tout en 1911; mais là encore on a droit à un custom de bonne facture. Il faudra tout de même débourser près de 400€ pour ce joujou.
Here is the second replica of this picture presentation: the GSO.13. I don't know which gun was used as a base, I'm know nothing about 1911, but once again it is a very good custom. This nice "toy" will cost you approximately 400€.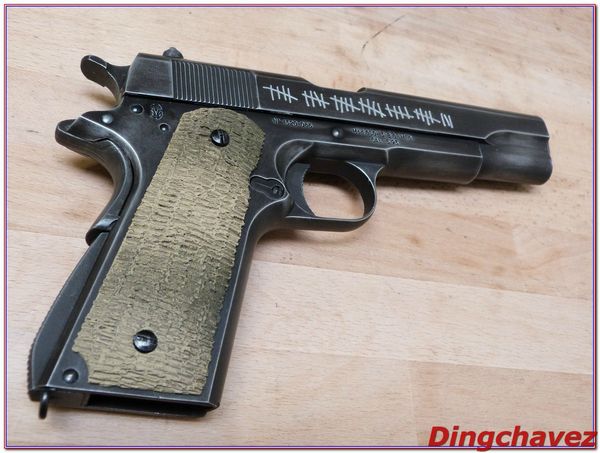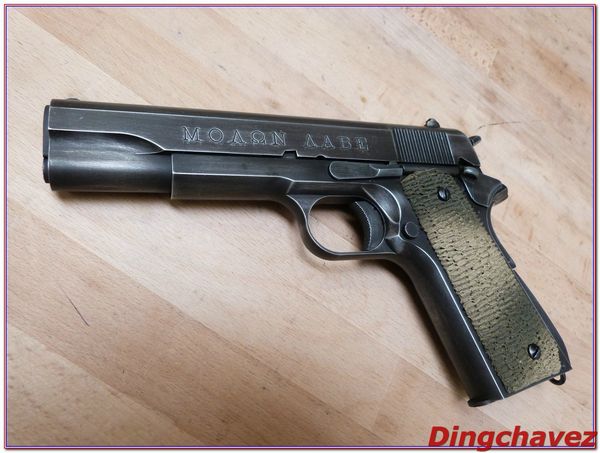 Le travail de vieillissement est vraiment bluffant, en tout cas moi j'aime bien le rendu usé mais pas épave.
The aging treatment is really good. I like the way it looks : old but not a total wreck.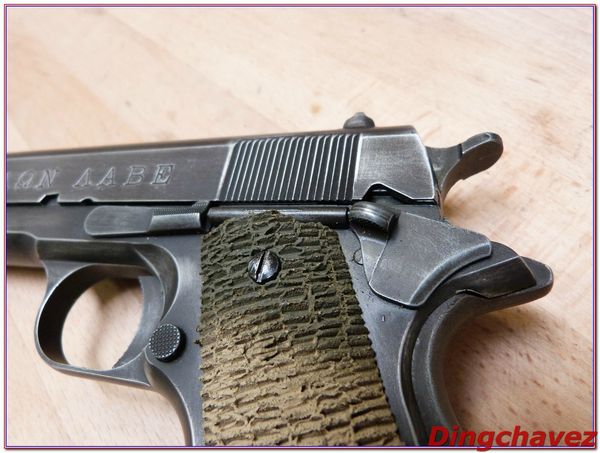 Les plaquettes ont été traitée au fer à souder ou au pyrograveur, cela s'appelle du ''stippling'', c'est à dire que l'on dessine, grave ou peint une forme en utilisant une technique de petits points, la forme de la pointe faisant le reste. Du coup la réplique tient bien en mains tout en n'étant pas désagréable à tenir comme cela peut parfois être le cas avec cette technique.
The grip covers have been treated with a soldering iron or a pyrographer. This technique is called "stippling": the form is drawn, carved or painted using small dots, the shape of the edge does the rest. Thanks to that you have a good hold on to the replica and it is not unpleasant at all as it could be with this technique.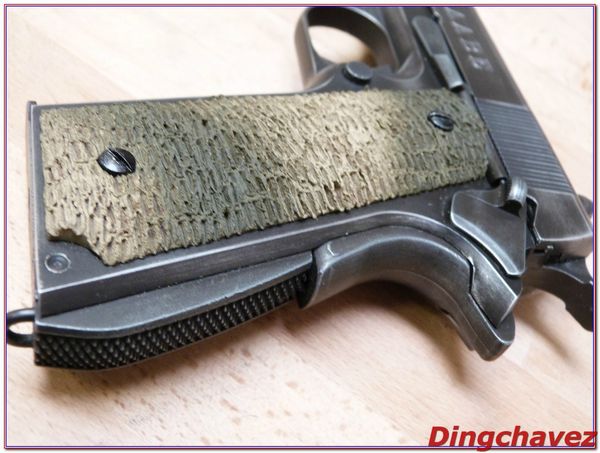 Le logo BO est un peu plus visible que sur l'AKM et le Delta.
The BO logo is a bit more visible than on the AKM and the Delta.
Le côté droit de la glissière comporte des gravures de "victoires", ou plutôt d'ennemis tués. Certains peuvent trouver ça de mauvais goût, pour ma part cela convient bien à l'esprit "Black Ops" dégagé par la marque et ce genre de choses s'étant vu à de nombreuses reprises sur les champs de batailles, je ne suis pas choqué.
The right side of the slide bears "victory" markings or markings for killed enemies. Some people might think it is of questionable taste, but I think it is consistant with the "Black Ops" spirit wanted by the brand and this kind of markings were seen many times on battlefields so I'm not shocked.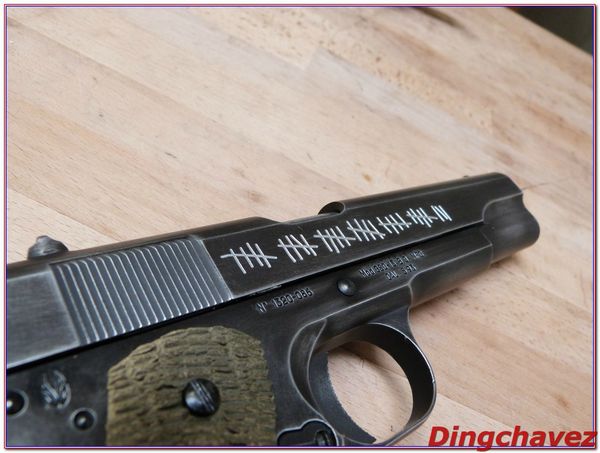 De l'autre côté on retrouve l'inscription grecque "MOLON LABE", qui signifie "venez les prendre", phrase que Leonidas aurait répondu aux représentants perses venus lui demander de déposer les armes. C'est une devise très connue dans l'armée américaine. En grec moderne cela signifie désormais "sans peur".
On the other side, you can read "MOLON LABE" in Greek which means "come and get them", a classical expression spoken by Leonidas in response to the Persian army's demand that the Spartans surrender their weapons. This classical expression is well known in the US Army. In modern Greek, it now means "fearless".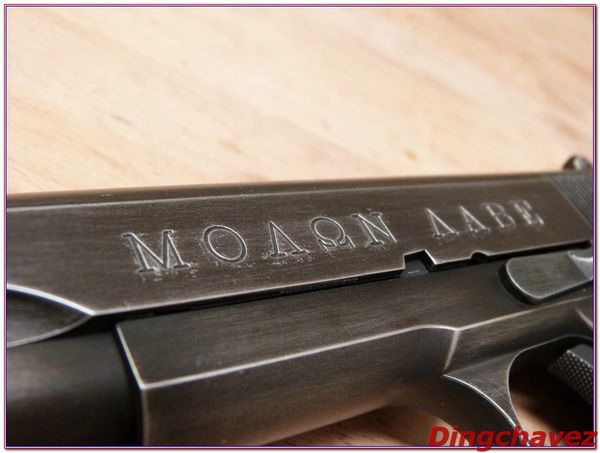 La prise de visée est on ne peut plus rustique, pas de points blancs ni d'organes réglables, c'est à l'ancienne !
The aim is unsophisticated, no white dot nor adjustable sights, it is old school !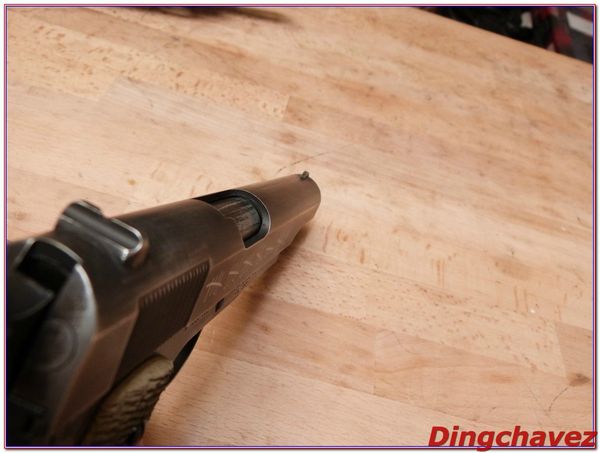 Le canon externe a également subit un vieillissement du plus bel effet.
The outer barrel also received an aging treatment and the result is very nice.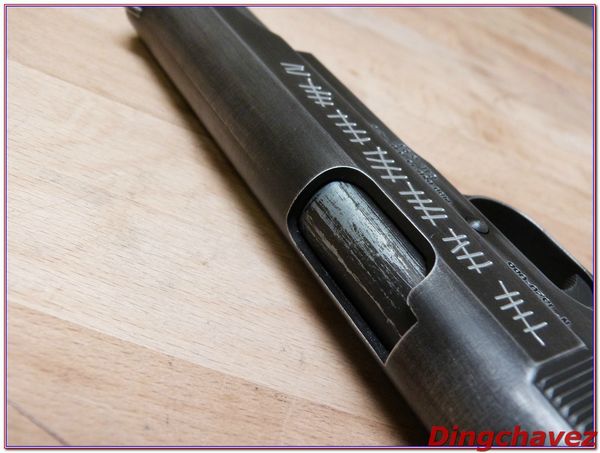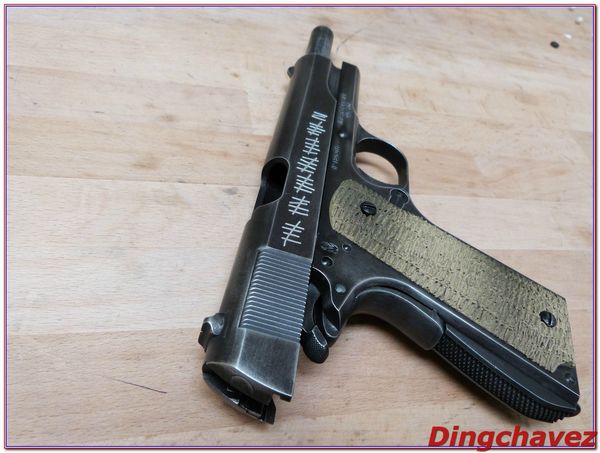 Le chargeur, pas de hi-capa ici, un bon vieux 15 billes et c'est parti mon Kiki®.
The magazine, no hi-capa here, only 15 BBs and let's go !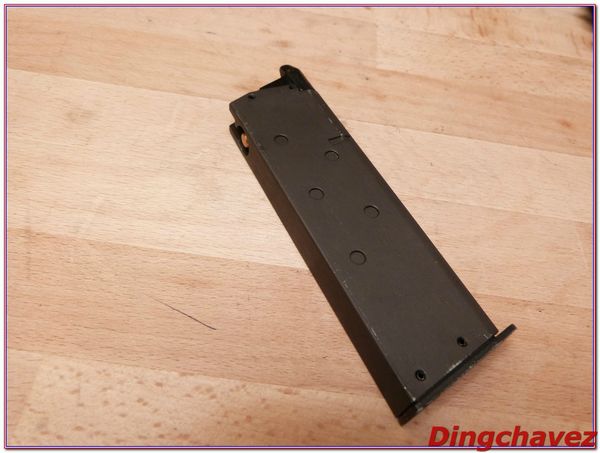 Et pour terminer, une photo de famille, merci de votre attention, si un jour j'ai plus d'infos ou la possibilité de tester les répliques, je ferai une mise à jour.
And finally, the family picture. Thank you for reading me. If one day, I have more to add, or the opportunity to try these replicas, I will update this presentation.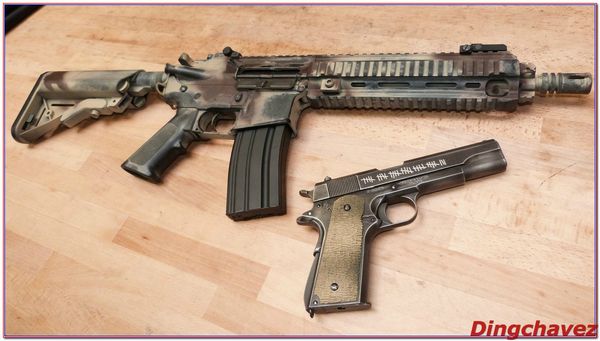 Thanks to ML for the English translation, it allowed me to work on something else ;-)

* "Une marchandise dans la production de laquelle sont intervenus deux ou plusieurs pays, est originaire du pays ou a eu lieu la dernière transformation ou ouvraison substantielle, économiquement justifiée, effectuée dans une entreprise équipée à cet effet et ayant abouti à la fabrication d'un produit nouveau ou représentant un stade de fabrication important."