13/06/2013
La vie est parfois surprenante, alors que je découvrais plus ou moins le Systema PTW dans une vidéo de Tonton Jim, Djé m'appelle pour me dire qu'il a reçu une nouvelle réplique qui tue niveau réactivité : un DTW. Ok, c'est pas une AK ça, non ? Tant pis alors...
C'était en avril, après une partie la réplique était morte et G&D promettait des "improvements" pour le prochain envoi. Vous pouvez voir la review d'une de ces versions ICI (lien à venir, review en cours de préparation).
Puis il y a une petite quinzaine, il me rappelle, cette fois-ci pour me dire qu'il a bien reçu les DTW, mais également un nouveau modèle peu connu mais attendu : le AIRO. Prétendument marque japonaise, il est assez difficile d'en savoir plus, la page Facebook étant d'une triste inutilité...
Bref, je repartais le sourire aux lèvres avec mes deux cartons pour commencer ce qui allait devenir les reviews les plus longues à faire depuis que j'ai commencé... Au passage je vous demande de bien vouloir me contacter si vous constatez des erreurs sur les termes (genre ECU, mosfet etc.).
Le point sur cette réplique AIRO M4A1, clone de Systema PTW, mais en avant propos, une vidéo comparative des deux répliques.
Hi folks !
Life can be surprising sometimes. As a real AK-addict, I was barely discovering the Systema PTW on a Tonton Jim video (you can click, he puts English subs !) and Djé called me to introduce the G&D DTW to me in April. Supposed to be a cheap clone of the PTW, it survived only for a play ! G&D promised improvements and two weeks ago, I received another phone call : the new batch was here, and a bonus item was a new replica : the Japanese AIRO TW (you can try to browse their Facebook page, but it has been useless so far...)
You can discover a full DTW review HERE (well, in a while, I'm writing the review at the moment !) but let's talk about this M4A1 from AIRO ARMS...
Dans la boite/ in the box :

De prime abord, rien de transcendant. Le carton est assez fin et la partie inférieure de la boite est en polystyrène biodégradable...
After a first glance, nothing very exciting with the packaging. It's a plain cardboard cover on a polystyrene body...
On se doute qu'après seulement une ou deux manipulations, la boite va exploser, laissant un tas de petits morceaux blancs partout !
No doubt that after only one or two unboxings, the polything will blow up !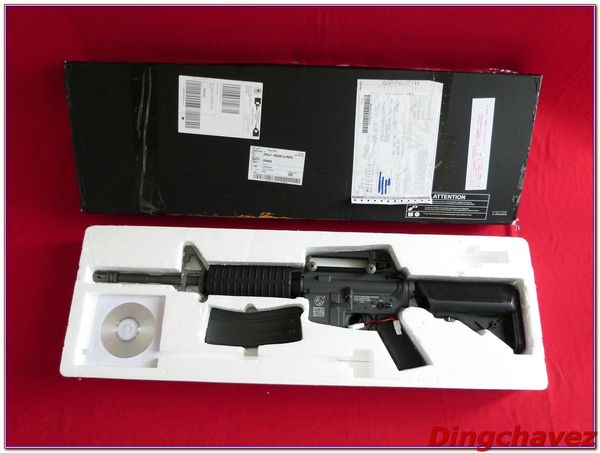 Une fois le ménage effectué on trouve :
-La réplique (3.4 kg chargeur engagé).
-Un chargeur 120 coups.
-Un écouvillon de nettoyage.
-Un CD comportant la documentation de la réplique (vous pouvez la voir ICI).
-Deux capuchons pour obturer les emplacements de la crosse Crane.
Once you've removed the polystyrene sticking everywhere, here's what you find :
-The BB gun (3.4kilos with mag)
-A 120BB magazine.
-A cleaning rod.
-A CD with a user guide and spare part charts (you can find it HERE)
-Two covers for the stock.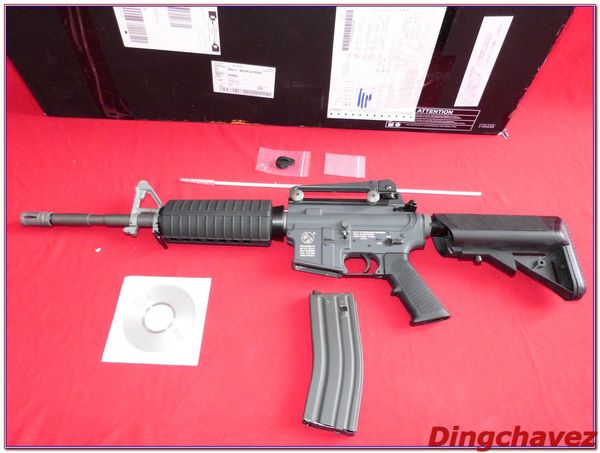 Les organes de visée/iron sights:

Du classique, nous sommes en présence d'un M4A1, on retrouve donc le guidon mondialement connu. Le cran de mire est réglable en hauteur avec l'outil approprié (non fourni).
Classic for a M4A1, the front sight can be raised or lowered using the appropriate tool (not in the box).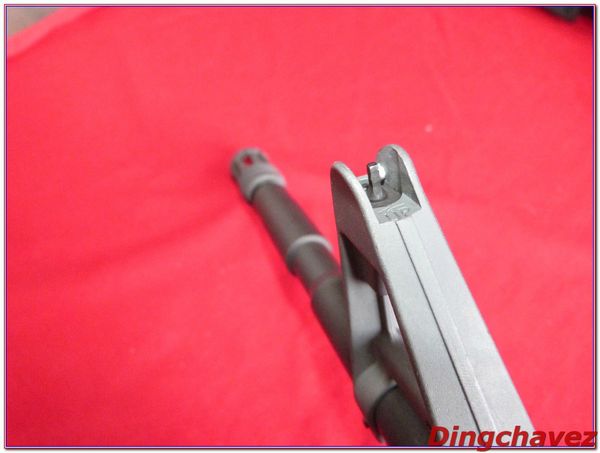 A l'arrière, c'est une poignée de transport amovible, là encore classique, et l'œilleton peut être réglé en site et en gisement.
The rear sight is embedded in the removable carry handle. It can be adjusted.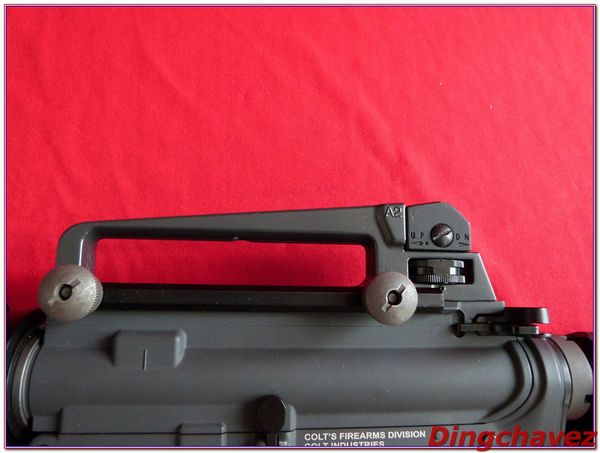 La visée est assez intuitive mais la plupart des joueurs posera un optique à la place.
Aiming is quite easy, but most players will use any kind of optical device.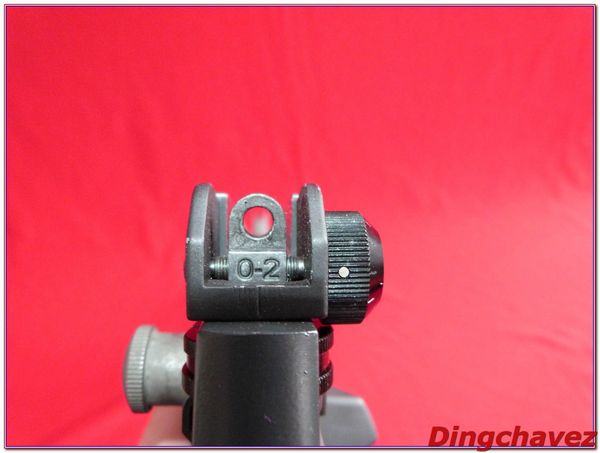 Marquages et détails divers/markings and other details :


L'apparence générale de la réplique est bonne. Rien ne bouge, pas de jeu dans la crosse, ni dans le garde-mains qui est tout de même un peu mou du genou. Une grande impression de robustesse se dégage de ce AIRO.

The overall look of the gun is good. No wobble in the stock or the handguard (the last is made of quite soft plastic). You feel that the replica is sturdy and rugged.

Un certain nombre de pièces sont en acier dont le canon externe. Les parties en alliage sont bien finies.
Many parts are made of steel, including the outer barrel. The alloy parts have got a good finish.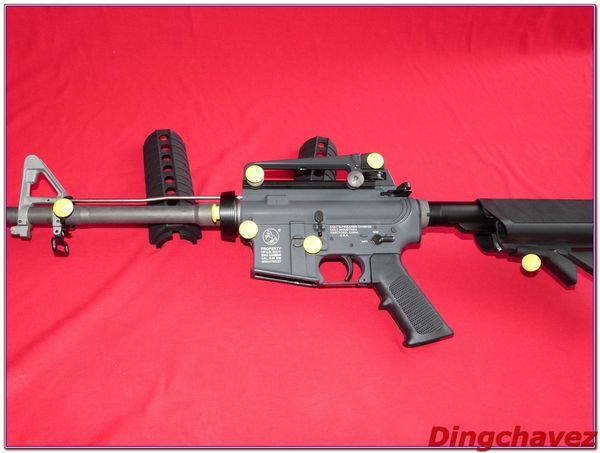 Du côté gauche du receveur inférieur on trouve les marquages Colt peints, cela peut poser des problèmes, AIRO n'ayant certainement pas la licence pour l'Europe...
On the left side of the lower receiver, there are painted Colt markings. This could be a problem as AIRO certainly doesn't have the licence...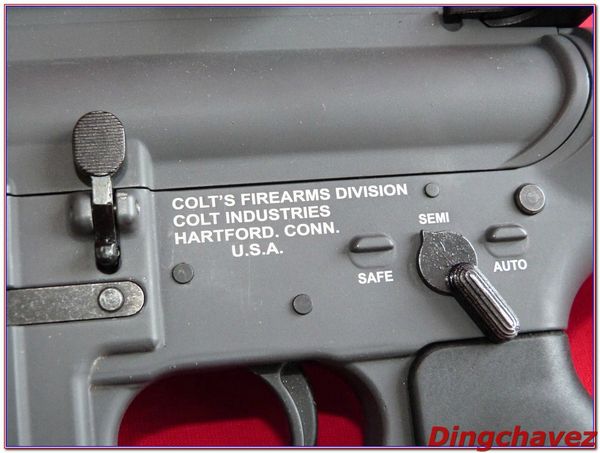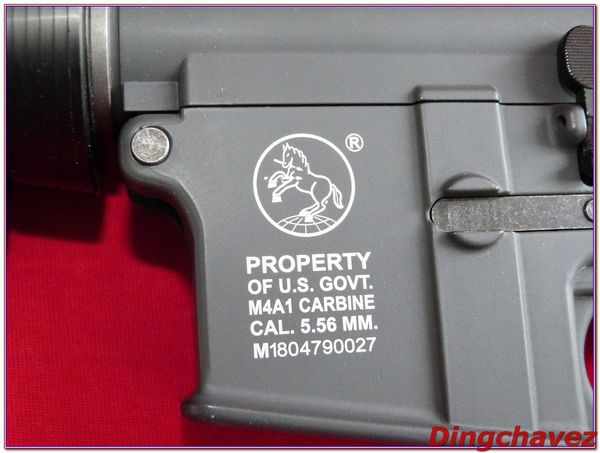 L'arrêtoir de culasse. Il est fonctionnel sur ce type de réplique. En effet, à la fin du chargeur, il désactive l'alimentation électrique de l'ECU (electronic command unit; ce qui gère la gearbox).
The bolt catch/release. It cuts the power when there is no more BBs in the mag.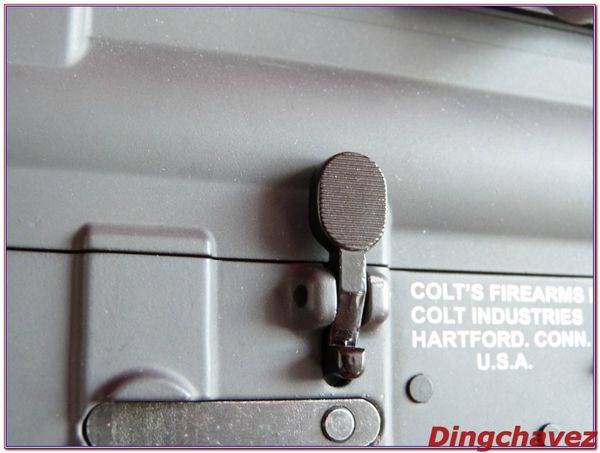 La poignée pistolet est conforme aux dimensions RS, c'est la particularité de ce type de réplique : les dimensions sont à l'échelle 1.
The pistol grip has the same dimension than its real counterpart. This is another thing about PTW : they use a 1:1 scale.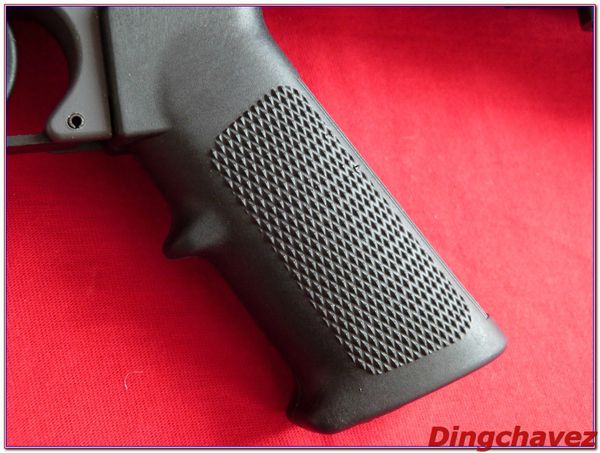 Le garde-mains et son plastique un peu mou. On peut bien entendu le remplacer par un RIS ou tout autre garde-mains compatible.
The handguard, made of soft plastic. You can replace it with any kind of compatible product.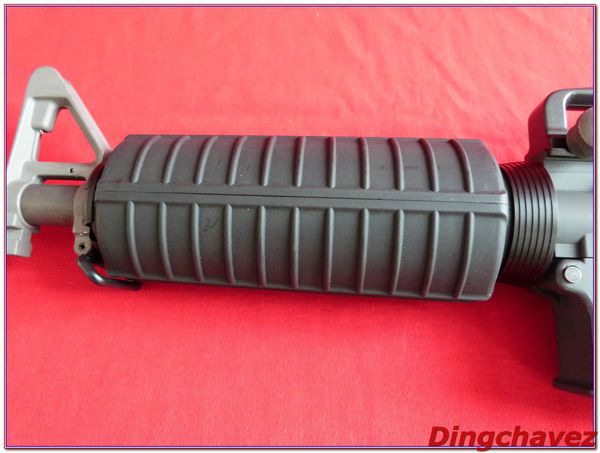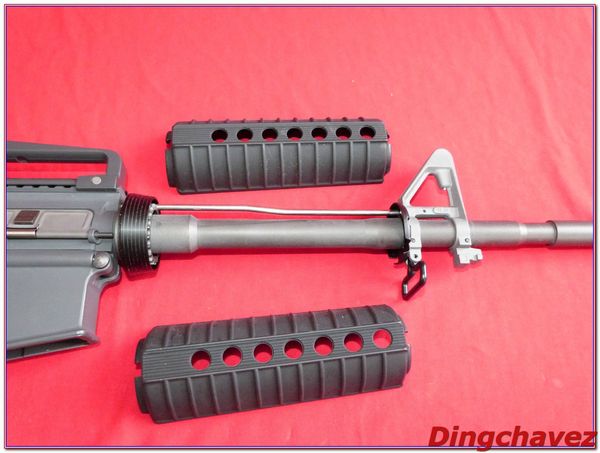 Une vue sur le cache-flammes et le canon externe. Les deux sont fabriqués en acier.
A close up on the flash hider and the outer barrel. Both are made of steel.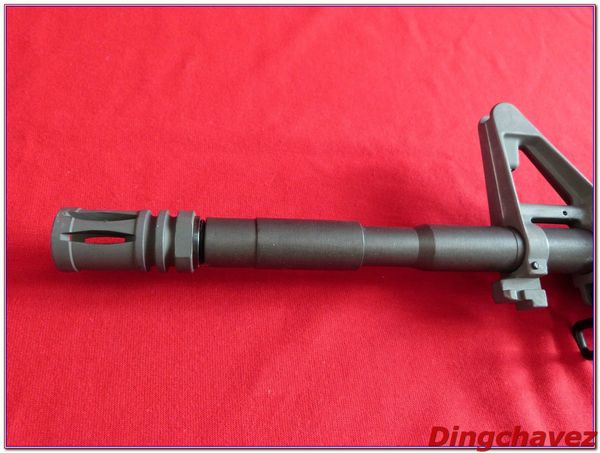 Ici on constate le bon ajustage des deux parties de la réplique.
Here you can witness the good matching of upper and lower receiver.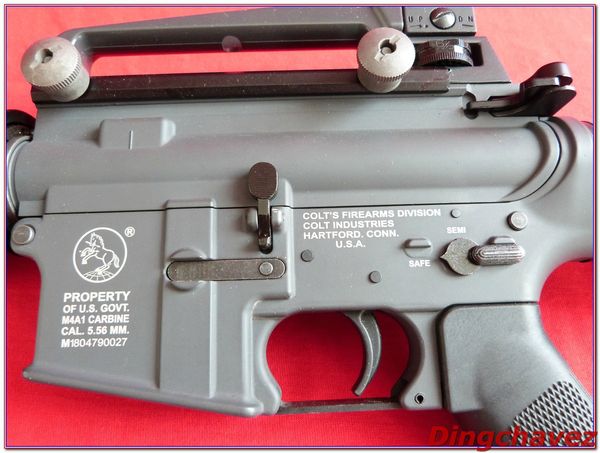 C
Côté droit, le piston d'assistance est non fonctionnel.
On the right side, the forward bolt assist. It doesn't work.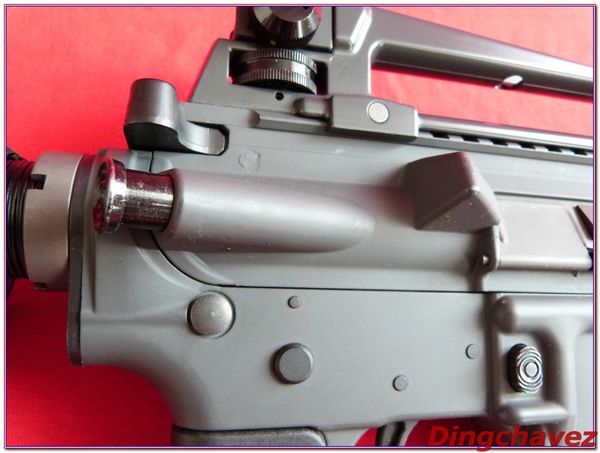 Une vue par la trappe cache-poussière, rien à voir à part le cylindre. Un ressort la maintien fermée.
A view with the dust cover in open position. Nothing to see except the cylinder. A spring keeps it closed.
La crosse type crane peut être réglée en longueur (6 positions) pour s'adapter à tous les joueurs. Un appui-joue en mousse confortable est collé sur les deux côtés. Il n'y a absolument aucun jeu sur ce modèle et il faut même y aller de bon cœur pour changer de position.
The crane stock can be set on one of 6 different positions. A cheekpad takes place on each side of the stock. Really comfy ! There is no game here and you'll have to get violent to change the length settings !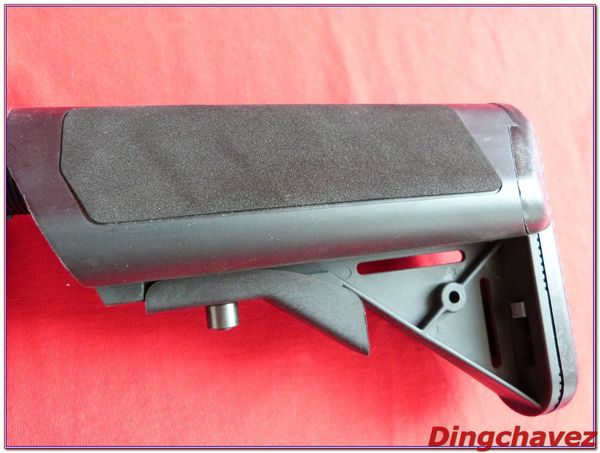 Le talon est relativement confortable, attention à ne pas le perdre lors d'un changement de batterie, ou tout simplement lors d'une action un peu soutenue en partie.
The butt is quite comfortable, be careful, don't lose it when changing the battery or during a fast game action.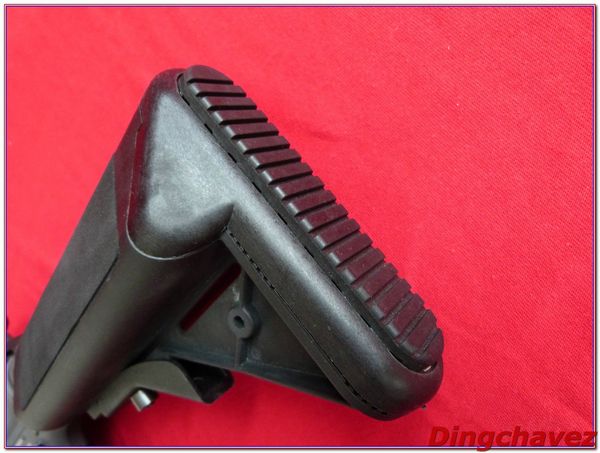 Les capuchons présents dans la boite peuvent être posés, ils empêcheront la batterie de glisser hors de la crosse.
The two covers can be set so the battery won't fall out of the stock.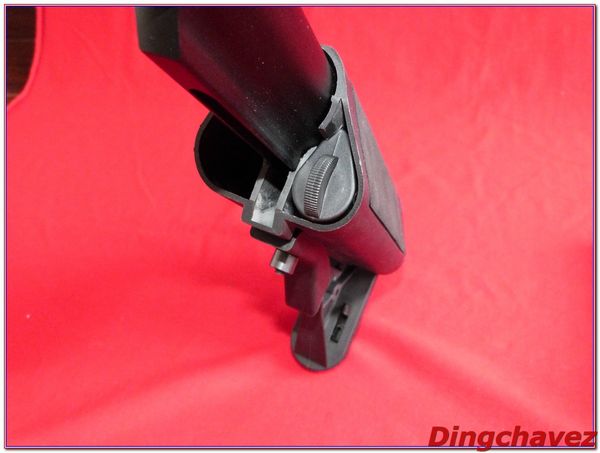 Le chargeur/magazine :

Un chargeur de 120 billes. Fabriqué en tôle assez fine pourtant son poids est conséquent pour un chargeur d'AEG. Ses dimensions sont conformes à un modèle RS (ici un chargeur Colt démilitarisé)
A 120BB mag. Made of some sort of thin steel. It is pretty heavy for an AEG magazine. The dimensions are consistant with a real Colt mag.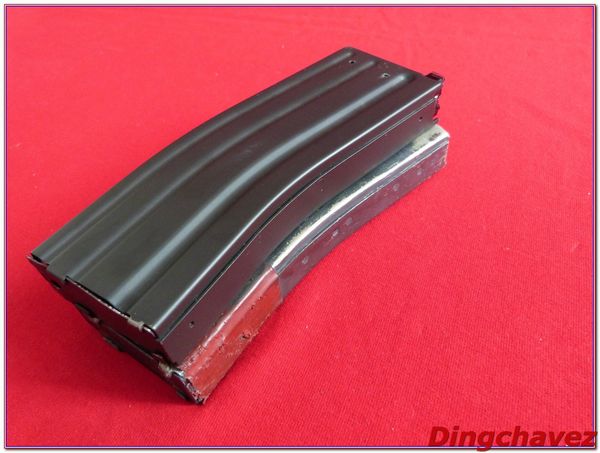 Pour le démonter il suffit de retirer deux goupilles (de qualité médiocre) puis de tirer l'interne vers le haut pour le sortir.
ATTENTION : lorsque vous enlevez la petite pièce en acier près des lèvres du chargeur deux petits ressorts peuvent sauter.
A l'origine, impossible de mettre plus de 70-80 billes dedans sans que ça force.
To strip the mag, you'll have to remove two small bad-quality pins and then pull the internals through the upper part.
WARNING : when removing the small steel part near the lips, two small springs can fly away.
At the beginning, it was impossible to feed it with more than 70-80 BBs.
Un bon nettoyage et une légère lubrification plus tard, tout rentre dans l'ordre...
After cleaning and lubricating it, everything seems fine.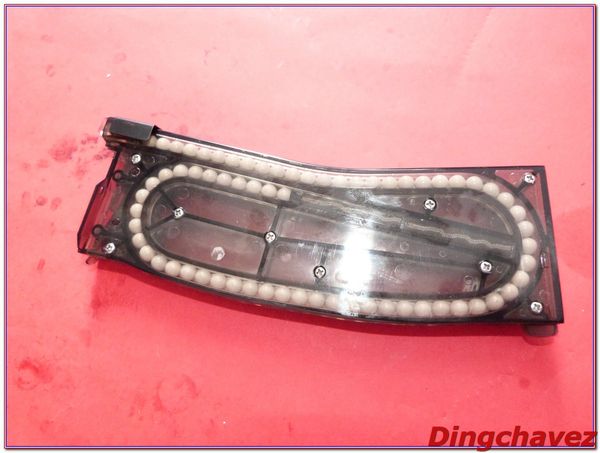 Brancher une batterie/plugging a battery :

Rien de plus simple, il suffit d'ôter la plaque de couche pour découvrir la connectique Tamiya large. La batterie prend place dans les logements situés sur les côtés de la crosse.
Easy as pie, just remove the butt plate to uncover the large Tamiya connector. The battery fits in the compartments on each side of the stock.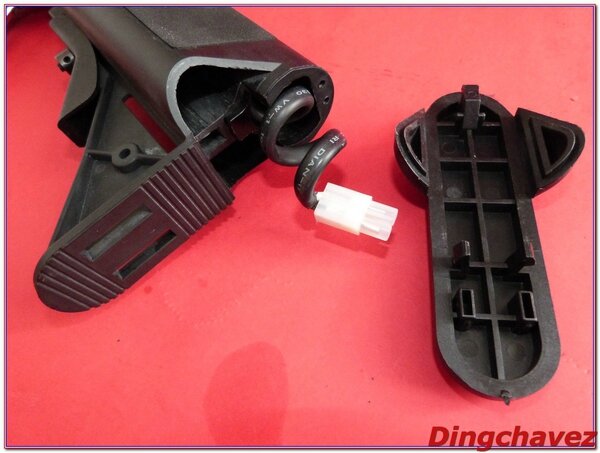 Démontage et interne/field stripping (and the guts) :
L'ouverture se fait comme le modèle réel, on enlève la goupille arrière et on casse la réplique.
Like the real M4, remove the rear takedown pin and brake the gun in two halves.
Cela vous permet de retirer le cylindre d'une simple action sur la poignée d'armement, soit pour un entretien plus aproffondi, soit pour changer la puissance de votre réplique en quelques secondes.
Then you can remove or change the cylinder by pulling the charging handle. It allows you to change the power very simply.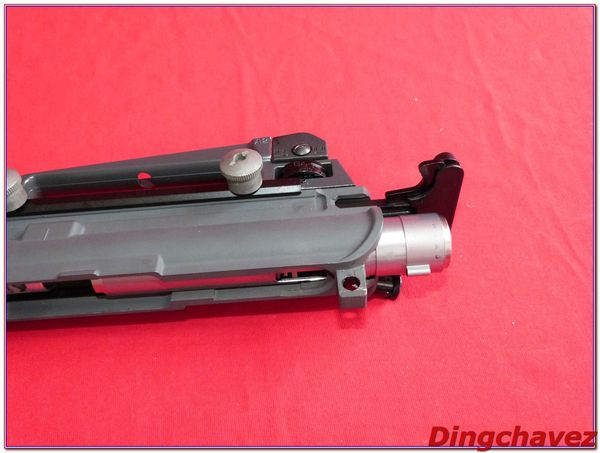 On voit bien que contrairement au DTW, la poignée de chargement est profilée comme une vraie.
The charging handle is designed like a real one. It is not the case on the DTW.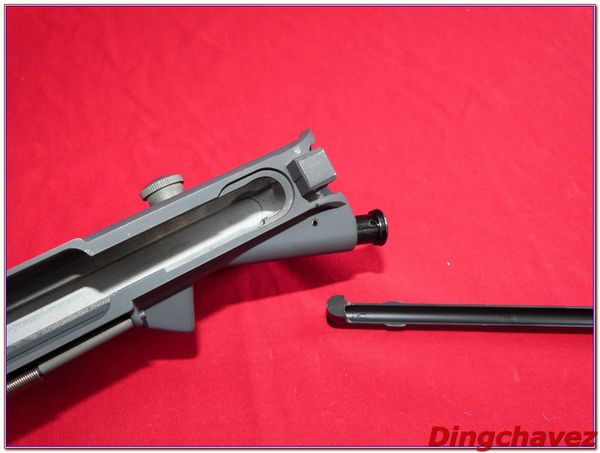 Une fois le cylindre enlevé, on peut accéder au bloc hop up et au canon interne. Il faut un peu insister car c'est monté légèrement en force.
Once you've removed the cylinder, you can access the hop up unit and the inner barrel. Be careful you'll have to insist because this is very tight.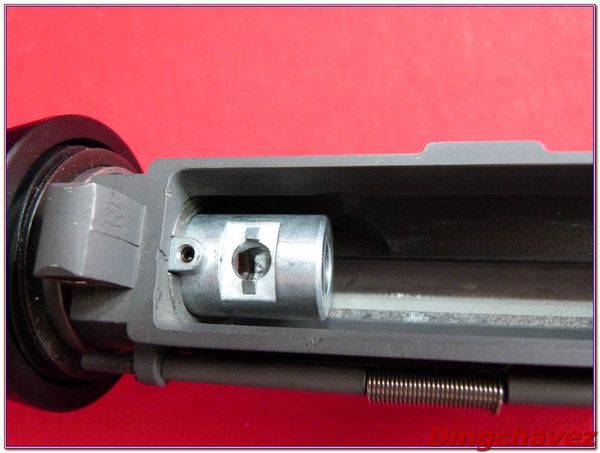 Le canon est en inox, l'extrémité a été usinée à la manière des canons celcius mais sans les ouvertures censées stabiliser la bille. Le diamètre est de 6.04 pour l'intérieur et 10mm pour l'extérieur
The inner barrel is made of stainless steel. The inner diameter is 6.04mm, the outer diameter is 10mm. The tip of the barrel looks like a Celcius one, but there are no slots (supposed to stabilize the BBs).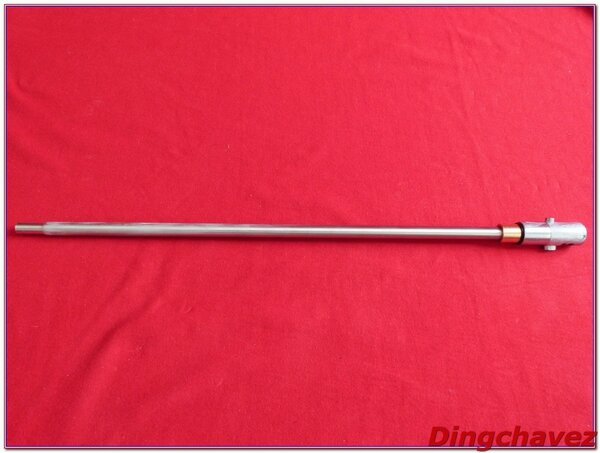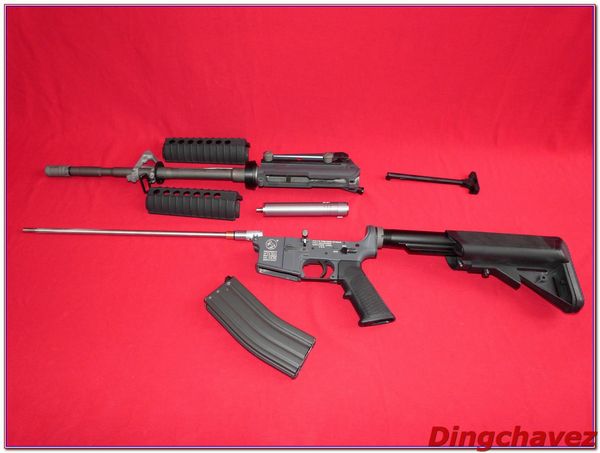 Pour démonter le bloc hop up, on enlève le petit guide de verrouillage et on ôte la petite vis Allen.
To strip the hop up unit, remove the small locking guide and unscrew the Allen screw.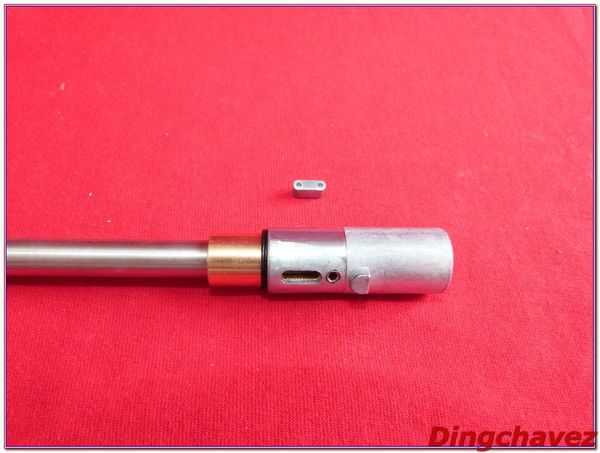 On tire tout doucement et voilà le travail !
Pull very gently, et voilà !
Ici le système qui permet au hop up de revenir en position. Pour ajouter de l'effet on dévisse, pour annuler l'effet on visse. Certains joueurs remplacent les deux petits cylindres par un ressort.
Here is the hop up. To add spin, unscrew, to reduce spin, screw. Some players replace the small white cylinders with a spring.
On peut remonter...
Let's put it back together...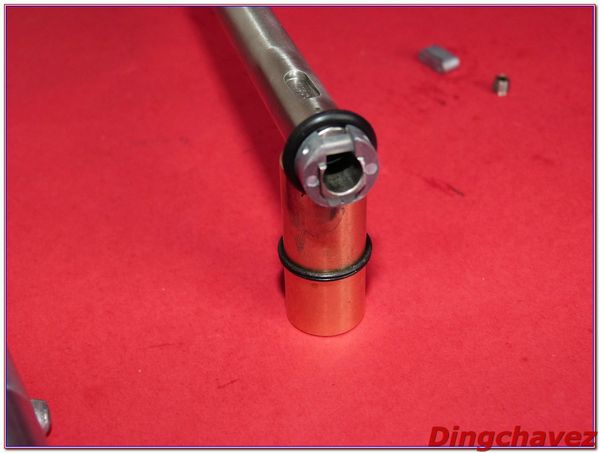 Alignez le tout puis replacez la pièce de verrouillage.
Put everything in line and put back the small guide.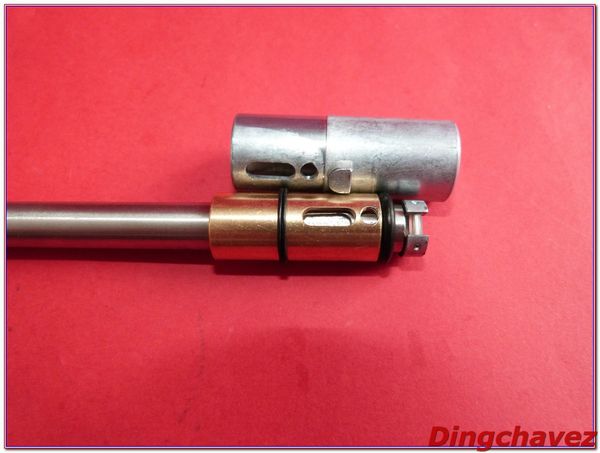 Revenons au cylindre. Si la version Japon est donnée à 290fps (en gros un cylindre M90), nous verrons plus tard que les versions export ont été un peu boostées. La qualité générale est bonne, visuellement pas de grosses différences par rapport au DTW.
Let's go back to our cylinder. The Japan version is supposed to be 290fps, but we'll see that the export version has been boosted a little bit. The overall quality of the cylinder is good, visually close to the DTW one.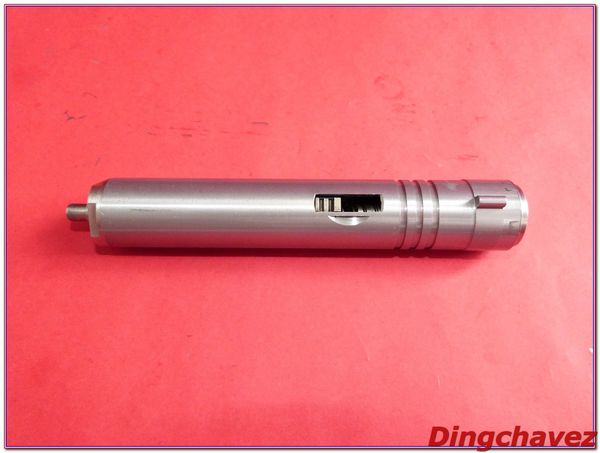 On dévisse l'arrière pour accéder au ressort, NE METTEZ PAS UN RESSORT D'AEG STANDART !!!
To access the spring we must unscrew the back of the cylinder. DON'T CHANGE IT BY A REGULAR AEG SPRING !!!
L'intérieur est nickel, pas un copeau, le pas de vis est impeccable.
The inside is pristine, not a metal filling and the thread is clean.
La partie avant se dévisse également sans peine, on peut sortir le piston sans problème. Pad d'excès de graisse, pas de corps étrangers.
The front part is clean too. Just the right amount of grease, nothing else.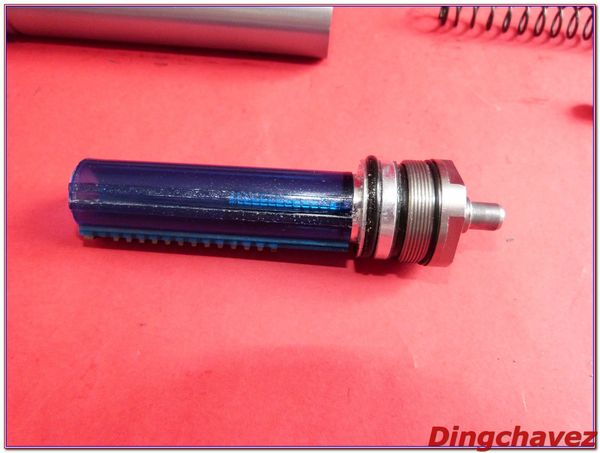 Une vue du piston. La tête est bien vissée, aucun jeu n'est présent dans la vis de maintien.
A look at the piston. The piston head is neatly screwed, no wobble in the screw.
Intéressons-nous au lower, avec en premier lieu le moteur qui est à remplacer d'urgence, du moins sur mon modèle.
Let's have a look at the lower receiver, and specificaly the motor. You should replace it quickly...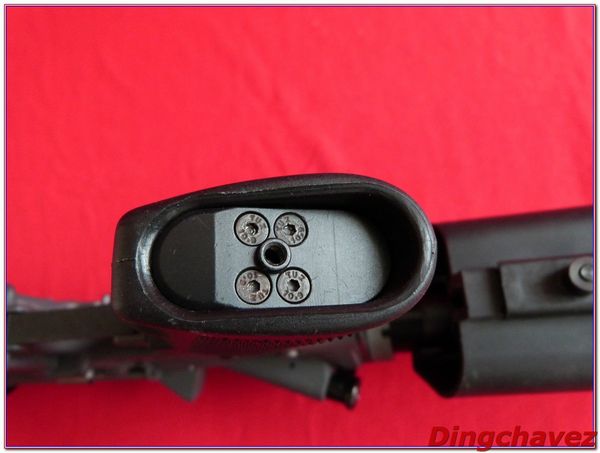 Il faut dévisser la plaque inférieure de la poignée pistolet puis tirer sur celle-ci, attention aux fils.
Unscrew the grip plate, then pull the grip, pay attention to the wires.
On constate que le moteur a été posé en force, dans les faits il faut user d'huile de coude, je n'ai pas tenté le démontage vu que les deux soudures des fils moteur ont lâchées lorsque j'ai enlevé la poignée...
We can see that the motor has been crammed in the lower. As the two wires disconnected when I removed the grip, I didn't insist...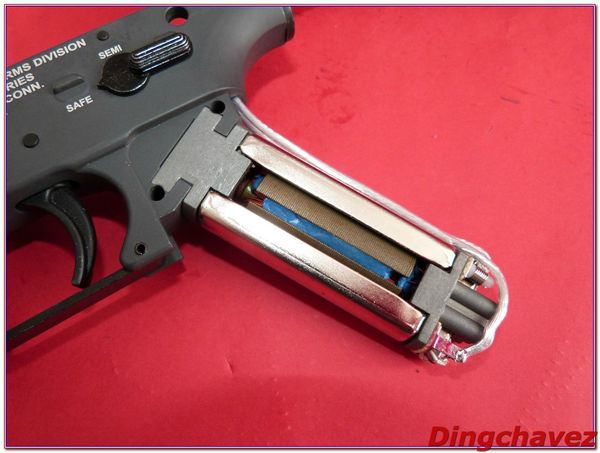 Prochaine étape, démonter le sélecteur de tir. Il faut enlever une petite vis sans tête, puis le ressort et la bille qui sont dans le puit, et on peut retirer le sélecteur.
Next step, removing the fire selector. We have to unscrew a small Allen screw, then remove a small spring and a mini steel ball.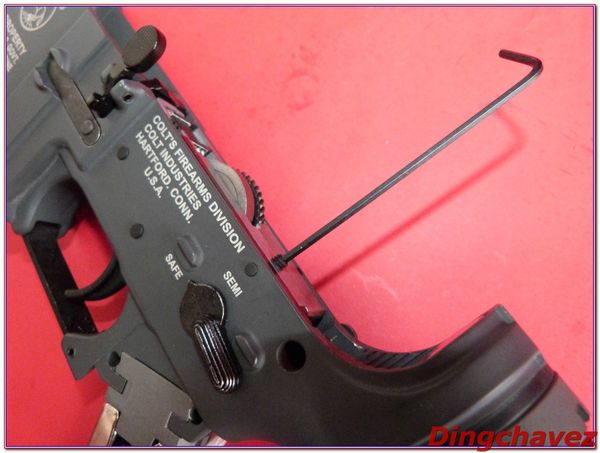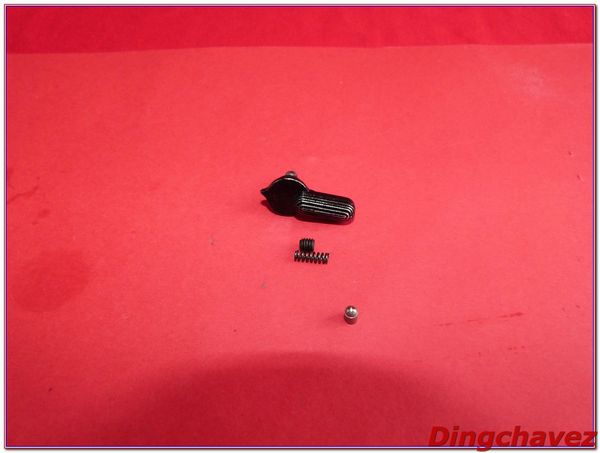 C'est au tour de l'arrêtoir de culasse.
Then the bolt catch.
Il est temps de sortir la gearbox. Pour ce faire, il faut enlever une vis à l'avant et une à l'arrière, puis tirer la GB vers le haut.
It's time to remove the gearbox. Unscrew the two screws and pull the GB out of the lower receiver.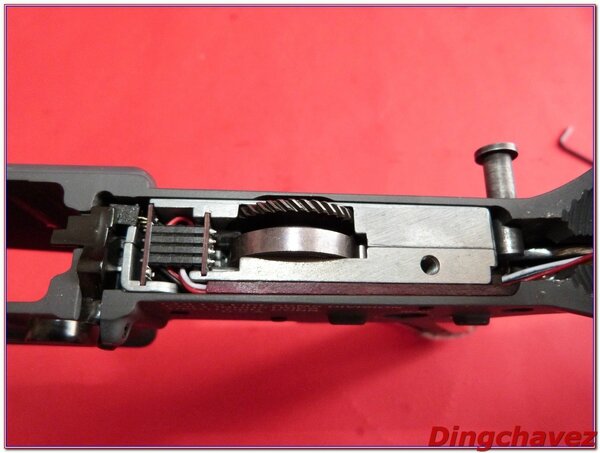 On constate que le levier de sélecteur est en métal. La GB semble solide et bien finie.
We can see that the selector lever is made of metal. The GB itself seems to be solid. The finish is good.
L'ECU est nickel, les contacts et les soudures n'ont rien à voir avec ceux du DTW !
The ECU is really neat. Nothing to do with DTW !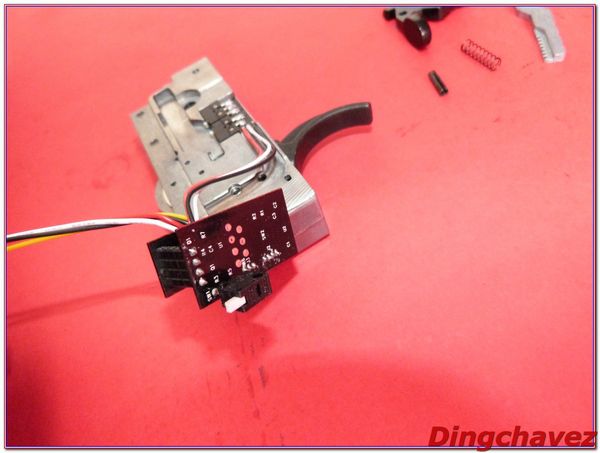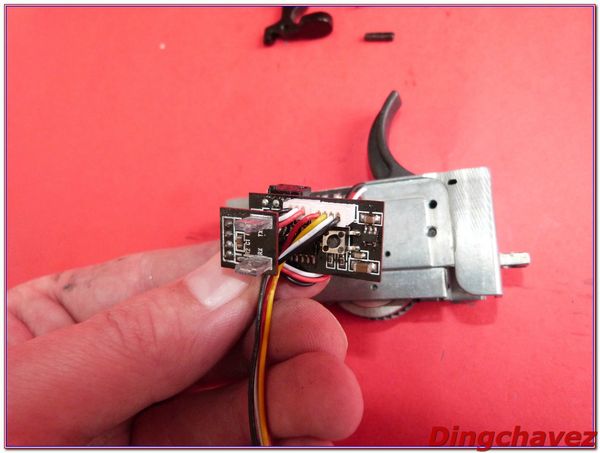 En prenant la photo ci-dessous, j'ai trouvé un truc bizarre, comme une pièce qui aurait dû être là mais qui n'y était pas : et oui, vous ne rêvez pas, il manque un bushing ! Pourtant je n'ai rien vu tomber, j'ai regardé partout, rien trouvé ! Ca alors ! Ils ont oublié de mettre de la graisse et un bushing ? Cela peut expliquer en partie la faible réactivité de la réplique...
While taking the picture below, something wierd crossed my eyes... MMMM yes... just like something that should be here but isn't here... Oh, yes ! Look ! There's a bushing missing in the GB ! They forgot to place a bushing ! Could it be the explanation of the poor reactivity ?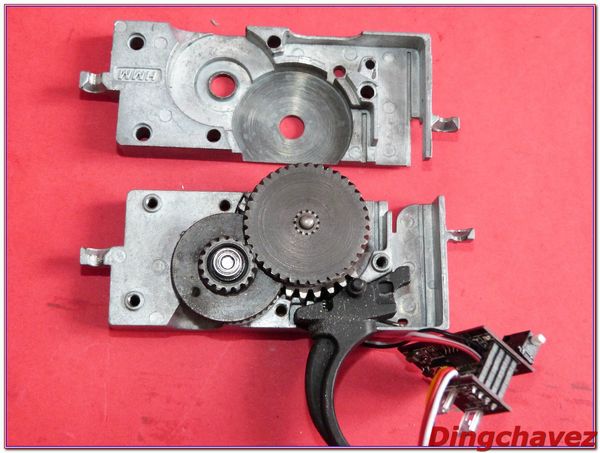 Notice that there's no grease too...
Un bon graissage et puis on remonte tout ça (ça fait tout de même suer qu'il manque un bushing...)
A little bit of lubrication and let's put it back together (it sucks that a bushing is missing...)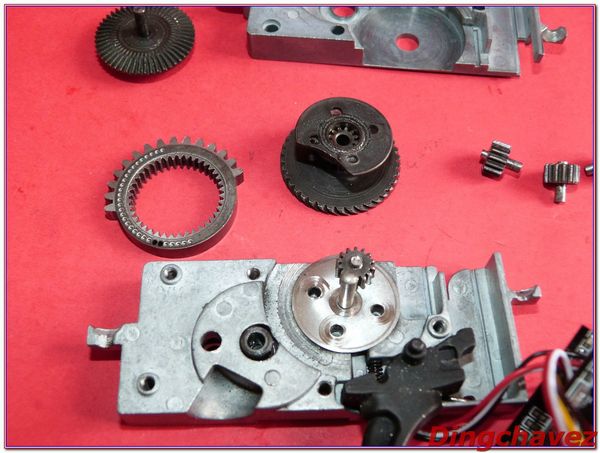 Pour retirer le mosfet, il faut déposer le bouchon de tube de crosse à l'aide d'un petit crochet ou d'une clé 6 pans (merci à m a d de FA pour son aide !). Et là, mystère, une petite pièce noire tombe, il s'agit du bushing manquant ! Je n'ai plus qu'à démonter la GB à nouveau ! C'est incompréhensible ! Aurais-je fait tomber cette pièce dans la crosse à mon insu ?
To remove the mosfet, pull the tube cover using a hook-shaped object. At this moment a small black part fell off the gun : this is the missing bushing !!! I can't figure how it is possible...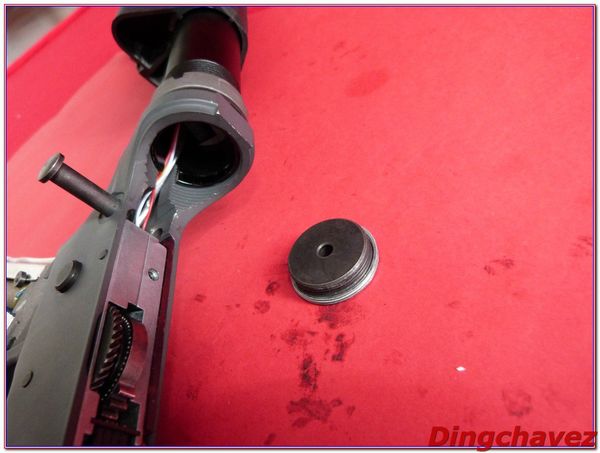 Puis pour le sortir à fond, il faut le pousser vers l'avant. Ici ça bloquait je n'ai donc pas insisté...
To remove it, you have to push it forward. This one was blocked so I didn't insist...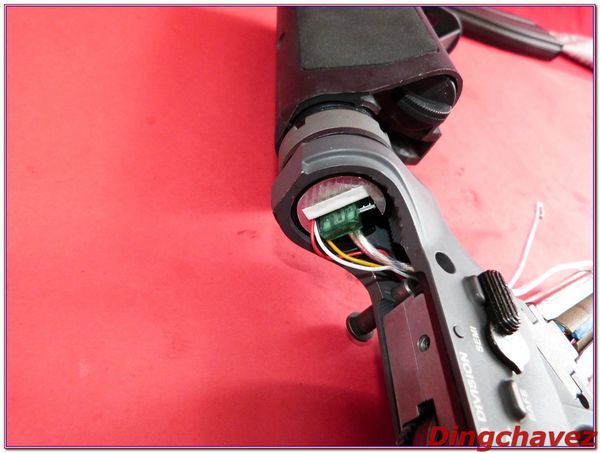 En fait ça donne ça : une copie du Celcius MX3
It looks exactly like the Celsius MX3.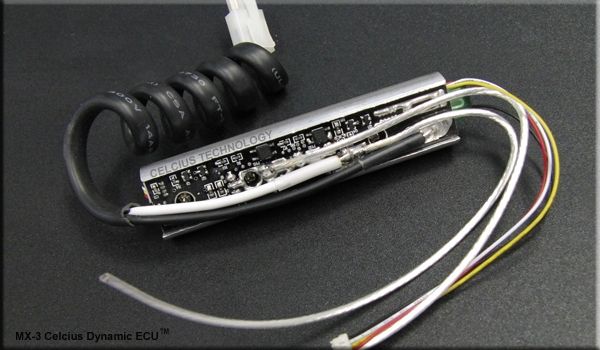 Tests de tir/shooting tests :

Tests chrony : billes 0.2g bio xtreme precision, température 15°C , chrony Xcortech3200
Sur 10 billes, la moyenne est à 348 fps, on constate que AIRO a mis un cylindre plus puissant que sur les versions Japon. C'est bien mais le moteur à du mal à entraîner tout ça même avec une lipo 11.1V, la réplique se met en défaut si on tire de manière un peu trop soutenue ou en automatique.
La réactivité est beaucoup moins bonne que sur le DTW, on dirait vraiment que le moteur peine.
Avec un cylindre M90 c'est un peu mieux mais on sort environs 270 fps, quant au cylindre DTW d'origine, il sort 400 fps mais le moteur bloque après une bille...
Bref, pas très encourageant tout ça !
Le hop up avait l'air de faire effet avec de la 0.25 mais la dispersion était bizarre, je me suis donc rendu sur le "pas de tir" et les résultats sont édifiants, je vous laisse admirer...
Conclusion :
Entre la dispersion, les bourrages intempestifs qui surviennent aléatoirement quel que soit le chargeur, le moteur poussif etc. j'ai eu l'impression de perdre mon temps...
Il est clair qu'en l'état actuel des choses, ce AIRO est plutôt à fuir si vous êtes novice et que vous voulez jouer avec sans rien modifier. Par contre pour moins de 400€ cela vous permet d'acquérir une base solide pour faire un upgrade à base de pièces plus fiables, je dirais déjà un bon moteur et peut être une modification du hop up et de la course de détente. Nous sommes loin des 1500€ d'une réplique Systema !
La qualité des matériaux est bien là, rien à voir avec le DTW ! Il est simplement dommage que la communication du côté de AIRO ARMS soit inexistante, c'est assez curieux pour une marque qui dit chercher des distributeurs...
Bref, j'espère pouvoir être en mesure de compléter la review lorsque j'aurai de plus amples retours sur ce modèle ou si je vois que j'ai oublié certains éléments. N'hésitez pas à commenter sur Facebook.
Vous pouvez également consulter la review de FC Airsoft si vous souhaitez un rétex supplémentaire.
J'aime/I like :
-Qualité globale des pièces et des ajustements. Global part quality and adjusting.
-Bonne base pour faire un TW à bon rapport qualité/prix. Good frame to build a cheaper PTW
-Bonne finition. Good finish.
J'aime pas trop/I like less :
-Moteur poussif. wheezing motor
-Tir irrégulier. irregular shooting
-Méga mosfet qui prend toute la place dans le tube de crosse. BIG mosfet, takes half of the buffer tube.
-Les bouchons de crosse qui se font la malle. Stock plugs that don't keep in place.
-Graissage absent de la GB, sans parler du bushing pas à sa place ! No lubrication in the gearbox. Missing bushing.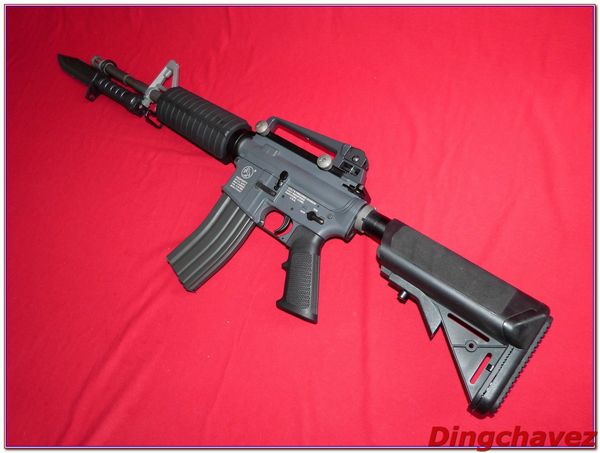 To be finished soon !